Good Shepherd Health Care System (GSHCS) President & CEO Brian Sims announced he will step down from his position effective Feb. 10, 2023.
"It has become clear to my wife and I that our family need us closer," he said. Sims is moving back to Chariton, Iowa and assuming his former position at Lucas County Health Center.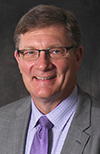 "This was an extremely tough decision," he said. "I am very proud of our staff and all we have accomplished together during my two years here. Good Shepherd is in excellent hands that begins with our wonderful trustees and executive team; both of which have been more than supportive as my family and I struggled with this decision."
GSHCS Board of Trustees Chair Sue Daggett echoed Sims.
"We have appreciated Brian's leadership and expertise, and the opportunity to work closely with him these past few years to fulfil our mission of improving the health of our community," she said.
Sims began his role at GSHCS in October 2020, succeeding longtime president & CEO, Dennis Burke.
During Sims' tenure, Good Shepherd has earned top scores in patient satisfaction, launched plans to build a new full-service Urgent Care, secured top-of-the-line technology including the Mako Robot, the da Vinci Robot and the newest Canon Orion MRI System, and more recently GSHCS received the Chartis Center for Rural Health Performance Leadership Award for Excellence in Patient Outcomes.
"I wish to thank this great community we serve for your support and partnership," he said. "Eastern Oregon is blessed to have such dedicated employees and medical professionals to care for you."
For more information about Good Shepherd, visit www.gshealth.org.