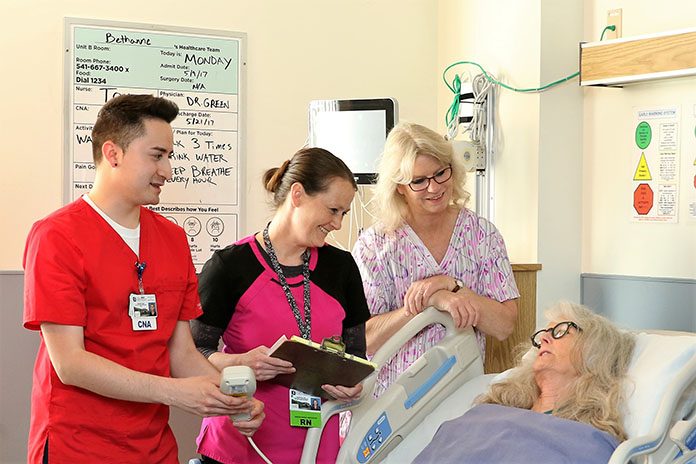 CHI St. Anthony Hospital (CHISAH) and Good Shepherd Health Care System (GSHCS) have announced the establishment of an enhanced Transitional Care program.
"Transitional Care is a high quality, evidence-based program for patients who are well enough to leave a traditional hospital setting but still have nursing, therapy, or respiratory needs that may not be optimally met in their homes or skilled nursing facilities," said CHI St. Anthony Clinical Informatics Manager Becky Miltenberger and GSHCS Case Management Manager Debbie Neal, in a joint statement.  "Some examples of these needs would include frequent intravenous medications, wound care, breathing treatments, or intensive physical, occupational, or speech therapy."
CHISAH and GSHCS have partnered with Allevant Solutions, a joint venture of Mayo Clinic and Select Medical, to develop their Transitional Care program.  The program, modeled on the Mayo Clinic's successful efforts in Wisconsin and Minnesota, is designed to provide access to high-quality post-acute services to patients in rural America.
The CHISAH and GSHCS Hospital-based Transitional Care program offers a number of important advantages over other post-acute options.  The program is supported by an excellent nurse to patient ratios, strong team culture, the ability to address sudden changes in condition with on-site physicians, radiology, and laboratory, and most importantly, a patient-centered approach that includes bedside rounds with the care team on a regular schedule.  Patients with complex health conditions and post-acute needs will find CHISAH and GSHCS Transitional Care to be the ideal setting for their recovery.  With this program, patients and families who live in the CHISAH and GSHCS service areas can get high-quality post-acute care close to home.
CHISAH and GSHCS staff have been implementing new processes and participating in additional clinical education.  A total of seventeen rural Oregon hospitals are collaborating on the effort, using proven processes and communicating regularly and sharing best approaches to care.  Most patients receiving this care at CHISAH and GSHCS will be covered by the Medicare Swing Bed reimbursement program, although other insurers may participate as well.
"As the nation's population ages, there will be an increasing need for facilities with the expertise and capability to care for patients with medically complex conditions, especially in our rural communities," said Miltenberger.
"By enhancing our ability to provide this care, we are not only meeting the post-acute care needs of our current and future patients but also providing increased stability and excellent employment opportunities for our community as a whole, " said GSHCS Vice President of Nursing Theresa Brock.
Dennis Burke, president and CEO of GSHCS, said the program could be a boon for the hospital.
"In addition to local patients being able to return to our community after receiving care at larger facilities in the Tri-Cities and Portland metro area, we anticipate that our program will also attract patients from other communities in Washington and Oregon who prefer to receive their post-acute care closer to home due to our proven record of quality, our team model of care, and the conveniences offered by our small town setting," said Burke.
"Because we have full choice over how many Transitional Care patients to admit at any given time, we will be able to continue to meet the day-to-day needs of our local patients. This is a win for our patients, our employees, and our community," said CHISAH President Harry Geller.