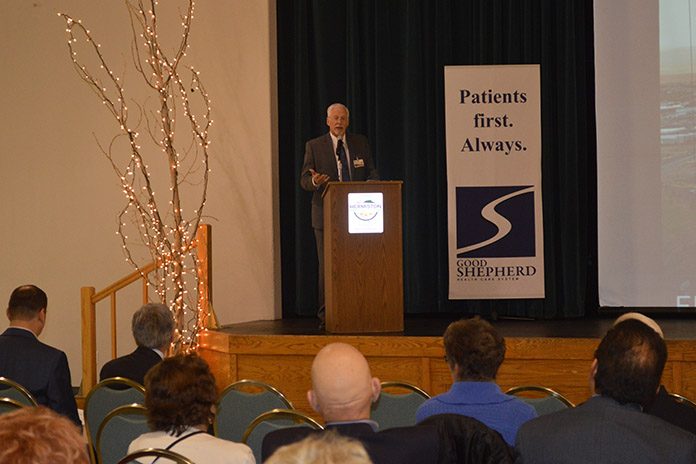 The Good Shepherd Health Care System held its first ever annual community meeting Wednesday night and hospital President and CEO Dennis Burke had a lot of positive things to talk about.
Burke began his remarks by thanking the more than 700 hospital employees and dozens of volunteers.
"A hospital doesn't run itself," he said. "It takes a very big and a very skilled team."
Burke talked about the many developments at Good Shepherd over the past fiscal year (2017-18) such as the $12 million expansion of the north wing of the Good Shepherd Medical Plaza which included the addition of the Women's Center.
Over the past year or so, the hospital has also finished the lower level of its surgery suite, added a new conference center as well as office space, remodeled the Broun Building on Orchard Avenue and combined its home health and hospice services into one building. Good Shepherd also remodeled the home medical equipment building on 11th Street.
Burke also talked about the launching of the hospital's Personal Home Caregiving program that helps people maintain independent living.
"We think this is filling niche in our community," Burke said.
The hospital's education department has grown significantly over the years, said Burke. In the past year, Good Shepherd put on 3,192 education classes impacting more than 16,000 people.
"I am not aware of any hospital that does more in its community for education than we do," he said.
Burke said Good Shepherd is also working with Lifeways on behavioral health issues, adding that an inpatient facility will be opening soon.
This past year, the hospital also acquired Gifford Medical Center and will soon operate it seven days a week.
Wednesday's community meeting also featured guest speaker Joe Piscatella who talked about the importance of maintaining a healthy lifestyle. The evening also included a health fair with a number of booths gave those attending information on a variety of health issues.