From a young age, Doctor of Nursing Practice JoDee Williams remembers wanting to be a nurse.
"My mom is a nurse," she mused, "and as long as I can remember I wanted to follow in her footsteps, and I truly feel it is my calling to help others and to be a healing presence." That inherent desire to follow in her mother's footsteps ultimately led Williams to a career in nursing.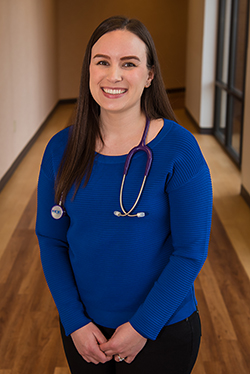 Soon realizing she had more to give and contribute to her patients, Williams pursued a doctor of nursing practice degree from Gonzaga University.
"I really wanted to broaden my scope of practice and grow in my knowledge about medicine, and be able to contribute more to this community," she said.
With her advanced training, Williams is looking forward to the diversity and complexity of family medicine.
"I really enjoy the flexibility and complexity of being able to care for men, women, and children over five-months-old," Williams said.
When asked why she decided to practice at Good Shepherd Health Care System, Williams said she feels a real sense of purpose in dedicating her career to the community she was raised in.
"I also believe that Good Shepherd is the perfect size for me to be an integral part of the organization and to be valued for what I contribute to the continuum of care," she said. "I also wanted to be in a place where I could build lifelong-generational relationships with my patients. I believe Good Shepherd affords all of these career goals."
As for what patients can expect from her care, Williams said she believes establishing a relationship with her patients is key.
"I want my patients to know that I value them as a person," she said. "I want to have open communication so when patients have a concern they feel comfortable sharing it with me so we can work through any issues together. I'm really here to help guide and advocate for my patients through life's journey."
The Good Shepherd Family Health Center is welcoming new patients and is located at the Good Shepherd Medical Plaza, 620 NW 11th St., Suite 103. To schedule an appointment with Williams, call 541-667-3830. For a more complete listing of services, visit the Good Shepherd website.