Good Shepherd Health Care System (GSHCS) has welcomed obstetrician and gynecologist Alexis Tuck, MD, to Good Shepherd Women's Center.
Dr. Tuck joins Drs. Khavkin and Snider, providing OB/GYN care to women of all ages in Eastern Oregon.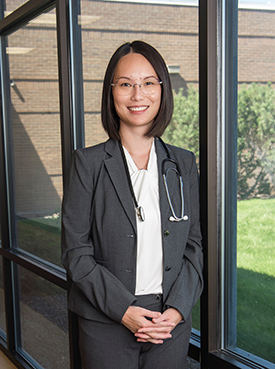 Tuck has been practicing in Tri-Cities the past five years after completing her residency at New York School of Medicine Brooklyn Campus in Brooklyn.  She is Board Certified by the American Board of Obstetrics & Gynecology and a Fellow of American College of Obstetricians and Gynecologists.
"I am passionate about advocating for women's health," she said. "Often women's health issues are overlooked, as women tend to tough it out and take care of everyone around them first before themselves. My promise is to always be a source of support for women whether it's mental or physical health, I want to be here for you."
Tuck said she chose Good Shepherd for her practice because of a sense of community.
"The love and care for the people of this community stood out to me, the fact that Good Shepherd emphasizes putting our patients first and taking care of their staff as well," she said.
The Good Shepherd Women's Center team provides the full scope of women's care on campus, as well as maternity and delivery care in the Family Birth Center.
"We are with women from their teenage years to menopause and beyond," said Tuck. "We provide important health screenings, well-woman exams, birth control consults, prenatal care, laparoscopic surgery, da Vinci Robotic surgery and more. Our OB/GYNs work collaboratively throughout prenatal care and delivery to ensure our patients and their babies are as safe and healthy as possible.  Maternal-Fetal Medicine for high-risk pregnancy is readily available as well."
In her spare time, Dr. Tuck enjoys making family memories with her husband and four children.
Dr. Tuck is welcoming new patients.  To schedule an appointment at Good Shepherd Women's Center, call 541-667-3801.  For more information about Dr. Tuck, visit the Good Shepherd website.
Good Shepherd Women's Center is located at 620 NW 11th St., Suite M-106 in Hermiston.