Gov. Kate Brown on Friday announced Oregon is expanding COVID-19 vaccine eligibility to include all household family members of frontline workers. She also announced that Oregon is expanding its criteria of underlying health conditions to match the CDC's extended list.
These changes will help reduce the racial and ethnic disparities in vaccination rates.
Brown is also asking Coordinated Care Organizations and commercial health insurance providers to reach out to their members with underlying conditions to share information about the importance of vaccinations, and how to get connected to a vaccine.
The Governor warned that Oregon's increase in cases and hospitalizations over the past two weeks is cause for concern.
"It's clear that, in Oregon and across the country, the fourth surge of this virus is at our doorstep," Brown said. "While Oregon's case numbers fortunately haven't matched those of other states seeing large spikes, our numbers are rising and we are back on alert."
This graphic shows the updated list of underlying conditions.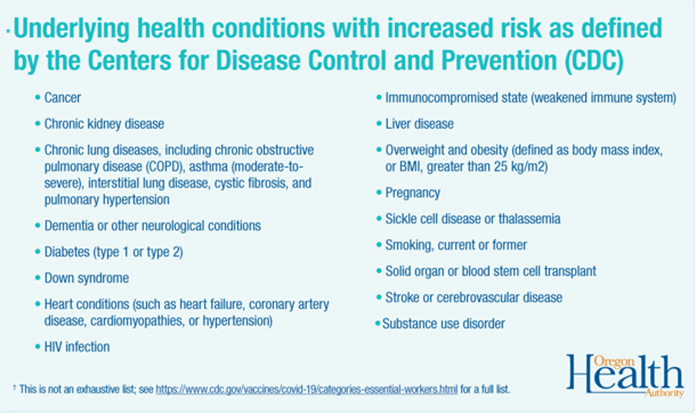 The latest COVID-19 forecast shows that the virus is spreading faster, according to the Oregon Health Authority (OHA).There was a considerable increase in transmission through mid-March with an estimated reproduction rate of 1.12. That means, according to the OHA, that every person infected with the virus is spreading it to more than one additional person.
If this level of transmission continues, the state can expect to see new daily hospitalizations increase to 17 for the two-week period between April 7 and April 20.
If the more contagious variants take hold or if people relax their vigilance and transmission increases by 20 percent over the same period, daily hospitalizations will increase to 27.
The OHA, however, stated that if Oregonians stay the course and do what they've done before – flatten the curve – then transmission will drop by 20 percent, and there will be a decline in new daily hospitalizations to 11.