The Umatilla County Grand Jury has indicted a Hermiston man on murder charges in connection to the June 2018 shooting death of Erik Navarrete.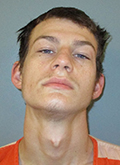 The grand jury on Wednesday indicted David Edgar Sommerville, 19, on charges of aggravated murder, felony murder, two counts of unlawful use of a weapon and first-degree robbery.
According to the Hermiston Police Department, Sommerville became a suspect in the murder in the months following the shooting.
Sommerville was already in custody on unrelated charges when the grand jury indictment was handed down. Cpt. Travis Eynon said Sommerville was arrested on March 26 on charges of possession of methamphetamine, carrying a concealed weapon, resisting arrest and interfering with a peace officer.
The murder charges stem from the June 4 shooting of 26-year-old Navarrete. Hermiston police were called around 1:20 a.m. to the 500 block of West Hartley Avenue for a report of shots fired. There they found an unconscious Navarrete with a serious head wound. He was flown to Kadlec Medical Center in Richland. He was taken off life support several days later.
Eynon said other people could be charged in the coming days for their suspected role in the homicide.