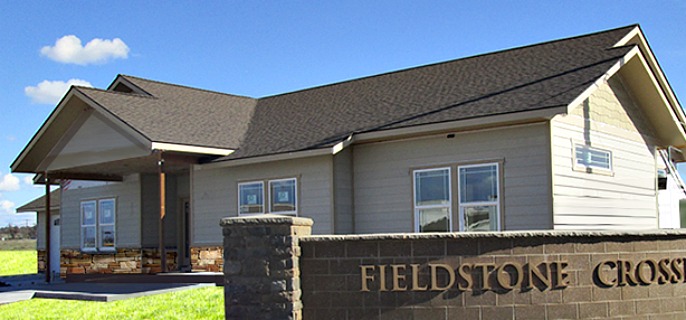 The grand opening of Fieldstone #1, the first home of the Columbia Basin Student Homebuilders Program, is set for Monday, June 1, from 1 to 6 p.m. at the home site on West Angus Avenue.
With substantial completion of the home slated for June 1, the open house has been set to show off the custom home to the community. A contractor/supporter appreciation lunch is scheduled from 11 a.m. to 1 p.m., and media representatives are welcome to attend and interview the professionals who have worked side-by-side the students in building the home.
On June 2, prospective buyers are able to submit sealed bid offers to the district. On June 22, the district will offer the home to the highest bidder. Proceeds earned from the sale of Fieldstone #1 will be used to construct the second home in the eleven home subdivision. The district has made available the timeline, bid information sheets, and other associated documents on the student homebuilding site at www.columbiabasinstudenthomes.org.
"We hope people will be able to visit the site on June 1st, whether they are interested in purchasing the home or not," said Deputy Superintendent Wade Smith. "I am confident that everyone who attends will be overwhelmed by the outstanding craftsmanship and quality of the house."
For more information, call the Hermiston School District at 541-667-6000.