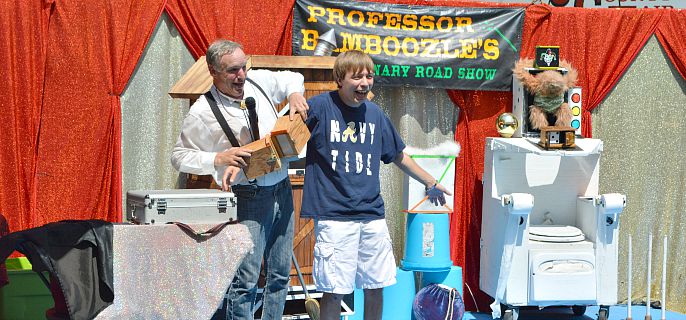 The Umatilla County Fair kicked off in style on Tuesday with big crowds taking in the sights, sounds and smells throughout the fairgrounds.
Just about everyone has their favorite attractions at the fair – from the carnival rides to the livestock exhibits to the Main Stage entertainment. But wander around the grounds during the day and you'll find all sorts of smaller acts offering their unique talents.
One of those unique talents is Brian Wood, better known as Professor Bamboozle, who earned his money Tuesday sweating it out in the heat, entertaining folks of all ages.
"Oh, it's a hot one today," he said, as he got his stage ready for his first show Tuesday afternoon. Wood mixed illusions with jokes in his 30-minute act.
"What do you call a cow that just gave birth?" he asked. "Decaffeinated."
He opened his act by turning flames into a living dove and pulling a string of razor blades from his mouth.
But his stock and trade is incorporating the audience into his act.
"I'm too cheap to hire an assistant," he said.
His first assistant he pulled from the audience on Tuesday was Daniel Tucker, who volunteered to have his right arm cut in half (or so it appeared). When the illusion was over, Tucker returned to his seat with his arm intact.
Wood has been perfecting his illusions since he was in the third grade and has been working professionally since high school. He travels throughout the Northwest performing for at fairs, corporate functions and night clubs. Professor Bamboozle will perform on the Les Schwab stage on Wednesday at 2 p.m., and on the Coke Stage at 4:30 p.m.,
Other ground acts to check out this week include Curtis Carlyle, the Man Behind the Show. Carlyle, based out of Portland, is a comedian and juggler. Carlyle will perform his act on Wednesday on the Les Schwab Stage at 1 p.m., in Rankin Pavilion at 4 p.m., and the Coke Stage at 6 p.m.
Mother Goose will entertain audiences with humor, magic and music on Wednesday on the Les Schwab Stage at 3 p.m. and the Coke Stage at 5 p.m.
Northeast Oregon's Brady Goss will perform his music on the Les Schwab Stage on Wednesday at 5 p.m. and in the beer garden at 7:30 p.m.
Animal lovers will want to check out the Walk on the Wild Side exhibit. The nonprofit organization is dedicated to rescuing and preserving endangered species.
Tonight's headline entertainment will be John Michael Montgomery, who will take to the Wildhorse Main Stage at 9 p.m.