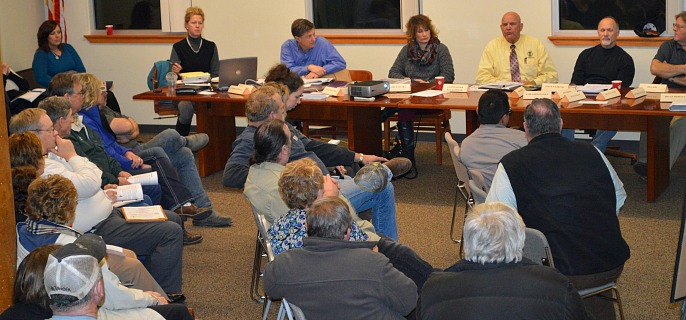 The North Highway 395 corridor just outside of Hermiston was once considered the five ugliest miles in Oregon. Its appearance has improved over the years, but companies recruiting top-level employees from outside the region still prefer to bring their candidates into town using some route other than Highway 395 in hopes of not scaring them off by the area's appearance.
A partnership between local stakeholders, county and state agencies are working together, however, in an effort to transform an ugly duckling into a swan. The Technical Advisory Committee held an open house Wednesday night to present possible plans for improving the appearance and safety of the stretch of highway between Punkin Center and Bensel Road. Several dozen people packed the meeting room at the Stafford Hansell Government Center to learn about the effort and to offer their input.
"This is no man's land," said Umatilla County Commissioner Bill Elfering. "It's the middle of nowhere. I would like to see something happen out there and for it to become a more beautiful area and to make it a better place to do business."
Consultant Eric Hovee was hired by the group to put together an economic development study focusing on what can be done to improve the appearance and safety of the area which encompasses 861 acres of land with a total assessed value of $51.7 million. Hovee said 37 percent of the land is vacant.
"There is still a lot of room in this area to make it an even more important place for economic development," Hovee said.
The consultant outlined three re-development scenarios. One involves doing nothing – keeping the area status quo. The second involves a partnership between the county and land owners to maximize opportunities for non-urban industrial and commercial development. The third scenario would involve incorporating the area into an existing urban growth boundary. This scenario, said Hovee, offers the potential for the most rapid commercial and industrial development, but it also could likely increase property tax rates, as well as depend upon inter-jurisdictional and public-private cooperation over many years to fully implement.
Joe Franell, CEO of Eastern Oregon Telecom, said his primary concern is the speed of motorists along the highway. He said it is hazardous for large commercial rigs to get on and off the highway. An estimated 12,000 vehicles travel along that stretch every day at speeds exceeding 55 mph. Speed is a concern of a number of stakeholders along Highway 395, but reducing the speed limit would also mean increasing the number of vehicles traveling at any given time.
Other concerns for the corridor include a large network of unpaved roads, lack of sewer, limited zoning flexibility and a lack of municipal water, making it difficult for businesses to get fire insurance.
Committee member Steve Watkinds, owner of Columbia Court Club, said the North Highway 395 corridor presents a unique opportunity to maximize the area's potential for economic development. That stretch, said Watkinds, is one of only three in the region that links to a broader population base of more than 250,000 people.
Umatilla County Planning Director Tamra Mabbott said Wednesday's large turnout showed that residents and business owners have a strong interest in making that corridor more economically viable.
"The county takes economic development very seriously," she said. "And that stretch can really be developed.
Hovee's draft report on the North Highway 395 development project can be found on the county's website.