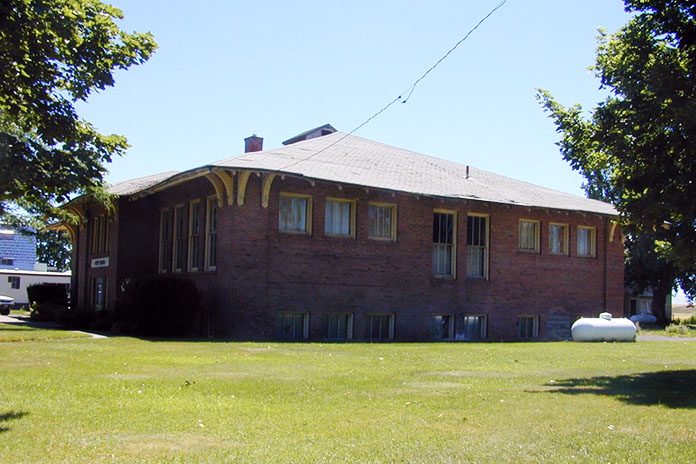 The Helix Advancement Partnership Network (HAPN) began renovation to repurpose and update the Helix City Hall and Library building.
The renovation project, which is 15 years in the making, is supported more than $60,000 raised from a variety of funders by the network. HAPN received grant writing mentorship from Eastern Oregon Business Source. S&K Mountain Construction of Walla Walla is doing the renovation work.
The goal of the project is to maintain the historical feel of the building while providing some much-needed updates to make the space usable into the future.
HAPN is a volunteer organization comprised of local Helix residents first convened in 2004 to figure out a way to save the historic Old Helix School building which houses the Helix City Hall, City Library, and the Helix Historical Museum.
"The renovation of the Helix City Hall was a vision that Mary Pilgreen and Harry Schuening had back in 2004, and regardless of some bumps and roadblocks along the way, we are finally seeing some action," said HAPN Board Treasurer Cindy Wood.
The project gained momentum early on, but lost traction as key individuals relocated or passed away. After struggling to get the necessary funding to move the project forward, HAPN turned to Eastern Oregon Business Source in Pendleton for guidance in applying for grant money.
"We can't thank Eastern Oregon Business Source enough for their wonderful guidance in applying for and successfully acquiring grants to carry this project," said Wood.
The current renovation project reconfigures some of the interior of the building, creating a community classroom area adjacent to the library. Additionally, the library and City Council room will be updated with new insulation, wall surfaces, and electrical wiring, as well as updated technology including a projector and screen, and a workspace with a sink and storage.
The project has received support from the Wildhorse Foundation ($20,000), the Northwest Farm Credit Services Rural Community Grant Program ($1,000), the Randall Charitable Trust ($10,000), the Oregon Community Foundation ($28,000), and the State Library of Oregon Library Services Technology Act grant program ($8,852).