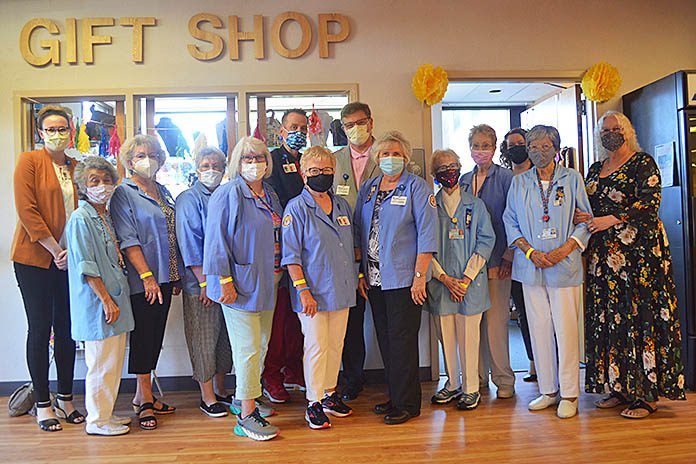 Monday was a day of celebration at Good Shepherd Health Care System as volunteer and auxiliary members were welcomed back with the re-opening of the hospital's gift shop.
"This really is a milestone we have been looking forward to for quite some time," said Brian Sims, president and CEO of GSHCS. "Our volunteers are the lifeblood of this organization. Without our volunteers we would be lost."
Lena Ray has helped out at the hospital for 11 years. She said she was grateful for the chance to return to volunteering.
"I'm so happy to be back here," she said. Ray has been involved with the Auxiliary Scholarship Committee, including serving as treasurer and chair. The committee gives out five $2,000 scholarships to medical students each year.
"We do a lot of fundraising to support our hospital and community," Ray said. "We are always trying to help."
Good Shepherd's Jessica Reker said the volunteers are relied upon for a variety of services that includes running the gift shop, driving Good Shepherd's CareVan as well as providing support for patients and staff.
"I don't know where we'd be without them," said Reker, who is director of Community Health & Outreach, Volunteer Services and the CareVan program that provides medical transportation services.
June Rosenberg has volunteered at the hospital for 15 years and is excited to be back.
"I want to give patients a positive feeling about our local health care," she said. "I enjoy meeting people and helping, whether they are employees or patients."
Joyce Anderson said she and other volunteers managed to keep busy during the pandemic helping out where possible.
"We made masks to contribute to the hospital, we checked in on each other, we were involved in any way possible that was safe," she said. "We really have a great group of volunteers." One of the more than 60 hospital volunteers, Tim Glass, has been volunteering at the hospital since 1984. He currently serves as president of the auxiliary
The gift shop will have limited hours for the time being until it eventually expands to its former hours and schedules.  Currently the Gift Shop is open 10 a.m. to 2 p.m. Monday through Thursday.  Kopacz Nursery & Florist are providing arrangements for sale again at the gift shop.
The gift shop follows the same entry guidelines the hospital does per the Oregon Health Authority.