Dr. Stephen Iacoboni, MD, has joined the Treatment Center of Good Shepherd Medical Center (GSMC) to provide patient care in the treatment of blood disorders and various types of cancer.
As an oncology and hematology specialist with the distinction of being the first board-certified oncologist in the region, Iacoboni brings 40 years of experience to his patient care.  Iacoboni said he believes in a path of wellness that includes the whole patient in the areas of medical, emotional and spiritual healing.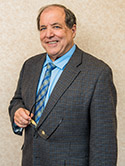 "Good Shepherd Health Care System offers the opportunity to enact a vision of oncology that will truly be beneficial to our community," he said.
His scope of care and professional expertise includes breast cancer, lung cancer, colon & rectal cancer, pancreatic cancer, head and neck cancer, stomach and esophageal cancer, leukemia, lymphoma, bladder cancer, brain cancer, ovarian cancer, uterine cancer, testicular cancer, liver cancer, kidney cancer, sarcoma, and melanoma.  Blood disorders include anemia, clotting/thrombosis, platelets, and myelodysplasia.
Iacoboni earned his Doctor of Medicine from University of California at San Francisco, and completed his residency in oncology and hematology from Medical University of South Carolina.  He was awarded an Oncology Fellowship at MD Anderson Cancer Center at the University of Texas in Houston, and is certified by the American Board of Internal Medicine & Medical Oncology.
He is considered a trailblazer in oncology and is quite familiar with this region, spending portions of his professional career in Walla Walla, and Kennewick, Wash.  He enjoys the outdoors and the various opportunities for recreation that this area provides.
Iacoboni is welcoming new patients of adult age. His office is located at the Good Shepherd Medical Center, Treatment Center Unit C, at 610 NW 11th St. in Hermiston. His office can be reached at 541-667-3615, or find him on the web.