The Happy Canyon Board of Directors held its annual stockholders meeting Jan. 5and selected Kenzie Hansell of Athena as its 2022 president.
"I am honored to have been elected to this role and to carry on the 106-year-old tradition of the Happy Canyon Night Show," said Hansell, who is beginning his eighth year as a Happy Canyon Director. "I'm fortunate to have the opportunity to volunteer alongside some incredible members of our community to put on Oregon's official outdoor pageant in the Happy Canyon Arena and put on a great time at Goldie's Saloon in September."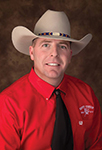 Hansell, 41, a fourth-generation Athena farmer, has volunteered with Happy Canyon and the Pendleton Round-Up for decades. While on the Happy Canyon Board, he has served as bar director, publicity director and properties director.
A Washington State University graduate who played football for the Cougars, Hansell is also the head varsity football coach at Weston-McEwen High School in Athena. He is a past board member for the Blue Mountain Community College Regional Rodeo Finals Board of Directors, and past chairman of the Umatilla County Weed Department Board of Directors. He currently serves as a board member for Pendleton Grain Growers, and is a member of the Farmers Ending Hunger Board of Directors for the state of Oregon. Hansell and his wife, Emily, have three daughters: Charlotte, Eloise and Cora.
In addition to selecting Hansell as Happy Canyon's new president, the Board also elected two new members to fill vacant positions from retiring members: Brian Currin, 43, of Pendleton as the new court director and Chris Stuvland, 30, of Pendleton as the new grounds director.

Currin is currently finishing work with Pendleton Grain Growers. He and his wife, Jennifer – an attorney for Corey, Byler & Rew law firm and a former Pendleton Round-Up Queen – have two children, Morgan and Caleb. Currin is a 1996 graduate of Pendleton High School and a graduate of the University of Montana. He has volunteered for Happy Canyon and the Pendleton Round-Up for more than 20 years as an Indians volunteer in the arena, Indian Village, dancing and pageants. He has also been a volunteer for the Children's Rodeo, and has been a parade announcer for 12 years. Currin also began riding with the renewed Mounted Band as an outrider, and in the Happy Canyon Show has performed in the rescue, cavalry, state coach and street scenes, and most recently on the radios. He has served as a dealer for table games in Goldies Saloon for many years, and his wife and children also volunteer for Happy Canyon.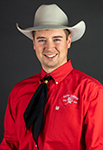 Stuvland has spent most of his life in the Happy Canyon Night Show, starting out as one of the kids coming out of the trunk at just 10 months old. He has continued with the show in various parts over the past 30 years, and has volunteered in the Happy Canyon grounds since he was in the eighth grade, in addition to helping out in Goldie's Saloon for the past several years. He began volunteering for the Pendleton RoundUp at just 10 years old, pushing cattle through chutes and then as part of the untying crew and World Famous Fence Crew. In 2011, Stuvland received the first Roy Raley Youth Volunteer Award from Happy Canyon. Stuvland is a principal broker for the Whitney Land Company, and has an 8-month-old daughter with wife, Madeline.
The Happy Canyon Night Show takes place Sept. 14-17. Tickets are on sale now at www.pendletonroundup.com.