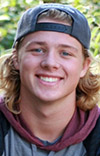 Hayden Simon of Hermiston Passes Away at 20
Hayden Eugene Simon passed away in an automobile accident on Jan. 11, 2018 near Hermiston at the age of 20.
He was born on Dec. 22, 1997 in North Bend.
In March 2002, Hayden and his siblings found their "forever family" when they were adopted by Mike and Deannie Simon and moved to Hermiston. Even at 4 years old, Hayden would light up a room with his genuine smile. His blue eyes would sparkle, he would say or do something goofy, and you had been charmed. Even when he did something wrong, a flash of his smile and all was forgiven. It was hard to be upset with Hayden for very long. He was everyone's "favorite," even if you weren't supposed to have one.
Hayden started playing sports right away and was a natural athlete. He enjoyed all things physical, but really found his niche when he started playing Grid Kids football in third grade. He loved everything about football, especially that he could "tackle" other kids and not get in trouble. He became known as a very hard hitter, one you feared lining up against. Hayden was fortunate to be coached by some amazing men that he had great respect for, and whom he continued to turn to for help when he needed, even after he had left their program. At one football camp, Hayden became known as "Sunshine" for his long blonde hair, after a character from Remember the Titans. He was a proud member of the Hermiston Bulldogs state championship team in 2014. Rain or shine – Dawgs all the time!
Hayden had many friends at school and was involved in many activities. He would help whenever he was asked to. He loved working out, snowboarding, snowmobiling, trying new things and just spending time with his friends. He loved helping younger kids and kids with special needs. If you knew Hayden, you loved Hayden.
He graduated from Hermiston High School in 2016 and accepted a football scholarship to Montana State Northern in Havre, Mont. Because of a shoulder surgery in the summer, he was redshirted and on the sidelines. A combination of not being able to play and being in such a small town made him rethink his choice. He left MSUN and returned to Hermiston to try to figure things out. Last summer he up and left on a walkabout, which brought him to L.A., then Tucson, and finally New York City. He really liked New York, but after realizing how expensive it was to live there, he returned home in November with a plan to return to college and get his degree. He was so excited as he started Blue Mountain Community College the week of his death. Heaven must have needed an angel.
He is survived by his parents, Mike and Deannie Simon of Hermiston; brother, Ryan Simon of Hermiston; sister, Cierra Simon and nephew, Ledger Simon of Phoenix, Ariz.; grandfather, Tom Simon of Casa Grande, Ariz.; uncles, Tim Simon of Hermiston and Mark and Peg Simon of Omaha, Neb. and cousins, Steven, Tommy
and Joe; grandmother, Nancy Sager of Mount Vernon, Wash.; and aunt, Debi and Scott Krichbaum of Carlsbad, Calif. and cousins, Justin, Dillan and Tyler.
He was preceded in death by his uncle, Steven Simon; grandmother, Eileen Simon; and grandfather, Ron Sager.
A memorial service will be at 2 p.m. on Saturday, Jan. 20, 2018 at Eastern Oregon Trade & Event Center (EOTEC), 1705 E. Airport Rd., Hermiston.
In lieu of flowers, the family suggests a donation in Hayden's name to any charity that helps kids, or foster kids, especially with sports.
Please sign the online condolence book at burnsmortuaryhermiston.com.
Burns Mortuary of Hermiston is in care of arrangements.