John Walchli, who got his start in farming raising watermelons while still in high school and whose name stamped on a watermelon signaled the unofficial start of summer, died at the age of 84.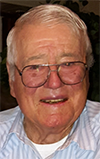 Walchli died on Wednesday at his home in Hermiston. The Walchlis are one of the area's farming pioneer families who, over the years, expanded their farm to include potatoes, wheat, cattle, buffalo and other crops including, of course, watermelons.
Walchli won the Oregon Outstanding Young Farmer of the Year award in 1969 and twice received the Soil and Water Conservation Award. He served on the Oregon Wheat League, the Oregon Cattleman's Association, the Oregon-California Potato Marketing Committee, the Umatilla County Farm Bureau, National Potato Promotion Board, and the Oregon Potato Commission, among others. He also served on the board of directors for both PGG and Inland Empire Bank.
A celebration of life service will be held on Saturday, Oct. 13, 2018 at 1 p.m., at the Eastern Oregon Trade and Event Center in Hermiston.