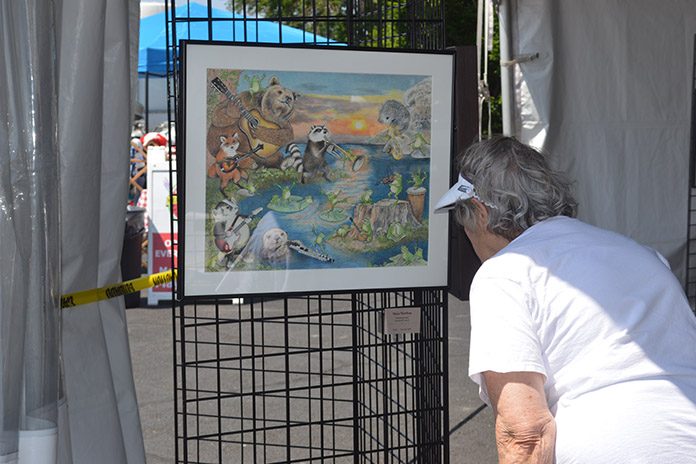 Spring is in the air and with it the Hermiston Art Festival is bringing a new freshness and excitement to Downtown Hermiston District on May 18.
Artists will be showing and selling their latest creations in businesses along the first two blocks of Main Street businesses and in the Festival Street in front of City Hall. This year brings many new artists to the Festival: Pam Sharp, Pat Quigley, Daniel Brennan, Diana Hayden, Kate Kopaczewski, Stella Hickey, Justin Stark, Laura Gable, and Samantha Sautter.
Returning favorites are: Adam Sims, Leah Lutz, Jan Beitel, and Mary Corp. The Hermiston High School art students will be bringing 40 pieces of art, which will be displayed at several businesses along Main Street. All the artwork will be judged and prices will be awarded for both adults and student categories. Festival-goers can vote for their favorite artists and select the "People Choice" award winner.
"Come vote for your personal favorite as every artist needs encouragement and support," said Mary Corp, local artist and Festival co-chair. The winners will be announced at 1:30 p.m. and 2:45 p.m.
A new addition this year will be art classes for adults and children, flower arranging demonstration and cookie decorating drop-in class. The adult and children classes are limited to 30 people each and a fee will be charged, people can pre-register at Lucky Endz on Main Street in Hermiston. These activities will be found under the red tent on the Festival Street during the Festival.
Music will fill the air from 10 a.m. to 2:45 p.m. on the Festival Street with a variety of acts: Hermiston High School A Capella Choir: Majazzty; dynamic duo: Brad Rozema & BC; Joanna Kopta on her keyboard; and Cory Cooley & Eric Jepsen singing some favorite tunes with harmony. For a high energy musical form of dance and exercise the audience can join– Zumba by JOY!
"The Hermiston Downtown District looks forward to showing off our many improvements and beautifying efforts in the center of Hermiston," said Downtown District President Judy Pederson.
For more information on the Festival activities and register for classes, call Lucky Endz at 541-289-1112.