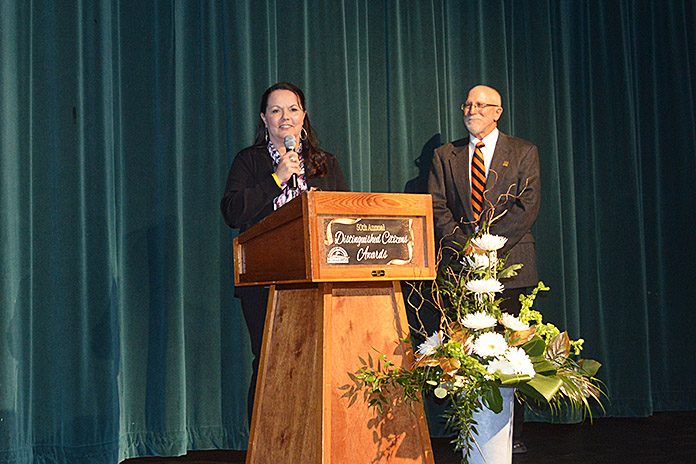 It was a night of emotions, surprises, standing ovations and, above all, deserving winners at Wednesday night's 50th Distinguished Service Awards Banquet hosted by the Hermiston Chamber of Commerce.
Cindy Meyers and Lou Lyons were honored as Woman and Man of the Year for their years of dedication to the community – a quality shared by all of the evening's recipients.
Other honorees included Kriss Dammeyer, founder of the nonprofit Made to Thrive; Medelez, Inc., won the Bob Severson Rotary Business of the Year; Jessica Marcum was the Fire Service Award recipient; and Tammy Fisher was named Educator of the Year.
Woman of the Year
Good Shepherd Community Health Foundation Executive Director Bob Green rained praise upon Meyers, calling her "resourceful, compassionate, enthusiastic, thoughtful," among other attributes. Green said Meyers, a vice president with Banner Bank, has dedicated years to nonprofit efforts while maintaining humility in everything she does. She has been involved with and supported organizations such as Altrusa, the Agape House, Umatilla County Fire District # 1, while serving on various boards.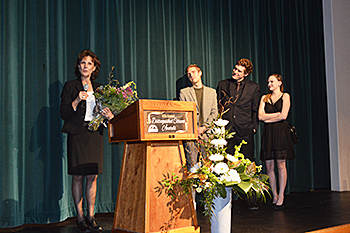 Meyers came to Hermiston in 1982 and went to work for Inland Empire Bank and has spent a career building positive relationships with her clients.
"She has a huge heart and cares deeply for her clients, many of whom have become her friends," said Green. "Her influence has been felt and cherished by countless numbers who have been touched by her caring and kindness."
Meyers was surprised by the appearance of her two grown sons when she got on stage and thanked her family and friends for the honor.
"I celebrate, day in and day out, amazing folks who do amazing things," she said. "I'm proud to be involved and assist in the lives of the people of this community."
Man of the Year
When Steve Frazier paid a visit to Elmer's Irrigation to get some background on this year's Man of the Year, he was flat out told, "He isn't going to like this."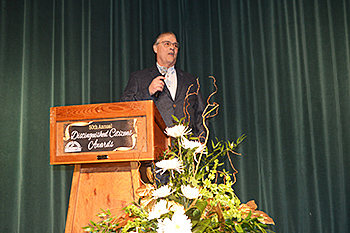 Lyons, said Frazier, prefers to keep quiet in the background, doing what he can to help the area's youth – something he's been known to do from time to time.
For instance, he provides financial support for scholarships, a backpack program to provide low-income students with nutritional meals, pool parties for foster kids and is "involved heavily" in FFA and 4-H.
Each year, Lyons buys 400 Farm-City Pro Rodeo tickets for Umatilla County FFA and 4-H students. He recently felt Morrow County kids were being left out, so he started doing the same for them.
When told that what he is doing is pretty pricey, Lyons replied, 'I don't think like that. It's the right thing to do."
He has, said Frazier, "an unquenchable desire to help kids."
Lyons tried to escape through the backstage curtain before reluctantly stepping up to accept his award.
He thanked his employees – both full-timers and part-timers – and also thanked his customers.
"They are who allows us to do what we do," he said. "But it's all about the kids, supporting the kids and that's what we intend to do."
Award of Merit
Among several standing ovations that occurred last night, perhaps the most heartfelt was the one for Dammeyer, who presenter Phil Hamm said has a special talent for bringing together people in order to "stop the cycle of abuse, neglect and poverty" among the community's children.
Founded in 2014, Made to Thrive provides needed resources to the children and families who find themselves in difficult situations.
Even with a family of her own, Hamm said Dammeyer will often be seen at sporting events supporting the kids her organization serves.
In the six years since its inception, Made to Thrive has positively impacted 1,500 area youth and put together a coalition of more than three dozen volunteers.
"Her passion is to help those who are not entitled or endowed," said Hamm.
Meyer said she and her volunteers have little time to reflect on the work they are doing – they just do it.
"We keep our heads down and don't spend too much time thinking about what we've accomplished," she said. "We started with an incredible vision to make a difference in kids who struggle. I'm proud to have been born and raised here and to give back."
Bob Severson Rotary Business of the Year
Medelez, Inc., started out as a small, family-owned business with just three pieces of equipment and a handful of employees, but over the decades has grown into a major going concern with 155 employees and more than 300 pieces of equipment.
The mainstay trucking company has diversified to include retail, service, harvesting and ranching, and has made giving back to the community a cornerstone of their philosophy. The company regularly contributes to the Farm-City Pro Rodeo, Agape House, Campus Life, the Festival of Trees and youth sports throughout the area.
Benny Medelez said the business has grown along with the Hermiston area and looks forward to what lies ahead for the business and the community.
"Our line of work is very demanding," he said. "We wouldn't be here without our employees. I get excited when a community is growing and there is a great future for Hermiston."
Fire Service Award
Umatilla County Fire District #1 Chief Scott Stanton credited Marcum with almost "single-handedly" building up the district's in-home visit program. Marcum, a community paramedic, makes regular visits to homes to make sure the sick and elderly are safe and have what they need. The aim is to prevent emergencies requiring ambulance calls.
"She has broken new ground and her in-home visits make a huge impact on her patients," said Stanton.
Administrator and Educator of the Year
Hermiston School Superintendent Tricia Mooney was named Administrator of the Year in only her second year on the job. Mooney, who recently received her doctorate in education, oversaw the successful passage of an $82.7 million school bond that will result in two new elementary schools and an expansion to the high school.
After accepting her award, Mooney awarded the district's Educator of the Year Award to Hermiston High School language arts teacher Tammy Fisher. Mooney praised her for her "contagious energy and enthusiasm" and for "opening up new avenues of communication."
The following were also honored as Educators of the Year for their school:
Nicole Silver, HHS
Shelly Lillie, Desert View Elementary
Marian Koenig, Highland Hills Elementary
Shawna Yeager, Sunset Elementary
Pam Schaffeld of the district office
Daniel Allen, Sandstone Middle School
Melissa Purswell, Armand Larive Middle School
Holly Moss, Rocky Heights Elementary
Amy Springstead, West Park Elementary