The Hermiston City Council will have three new faces when it meets in January after Phillip Spicerkuhn was appointed on Monday to fill a vacant seat.
The council interviewed two candidates Monday night – incumbent David McCarthy and Spicerkuhn. McCarthy currently holds an at-large position on the council but was defeated in the Nov. 3 election. He then decided to apply for the seat that opened in September when Doug Smith resigned.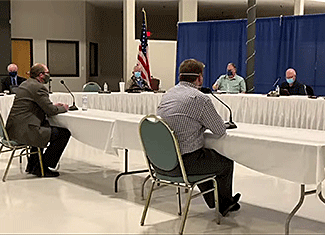 McCarthy was originally appointed to the council in May when John Kirwan resigned due to scheduling issues with his new job.
Five councilors and Mayor David Drotzmann interviewed the two applicants during Monday's council meeting. The five councilors then voted, with Doug Primmer voting for McCarthy. Manuel Gutierrez, Rod Hardin, Roy Barron and Lori Davis voted for Spicer Kuhn.
Spicerkuhn, an attorney in Hermiston with his family's law firm, said he hopes his experience in municipal law will be an asset to the council. He told the council he believes the biggest long-term goal of the council should be to focus on continued growth of the city and to attract new businesses. He also said he would like to see more of the public involved in city issues.
"It always kind of saddens me when I come here and there is hardly anyone here at these council meetings," he said.
Spicerkuhn will be sworn in at the Dec. 14 council meeting and will take his seat at the first meeting in January. He will be joined by two other new faces – Nancy Peterson and Maria Durón, who were elected on Nov. 3. Primmer will also be sworn in after winning re-election.