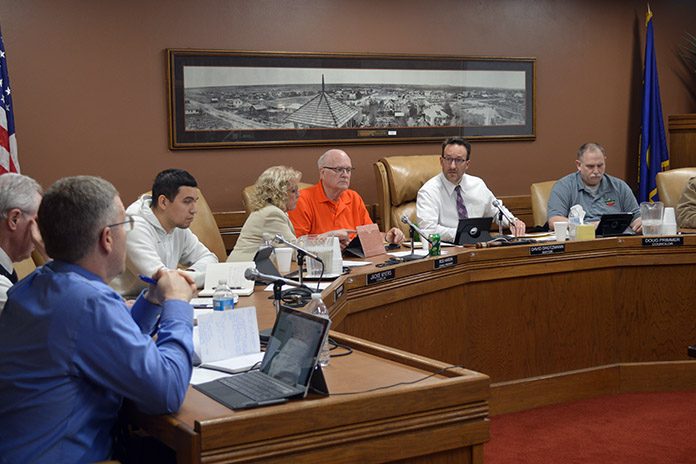 The city of Hermiston got the approval Monday night to enter into an agreement regarding the management of the food pod on city-owned land.
The proposed food pod will be located on the city-owned parking lot at the northwest corner of S.W. Third Street and W. Orchard Avenue, north of the post office.
The food pod is a one-year pilot program after which the city will evaluate it to determine if improvements could be made or whether to even continue it.
The Hermiston City Council approved the agreement Monday night between the city and Monica Todd.
Last year, a public survey showed 90 percent of respondents supported the creation of a central location where multiple mobile food vendors are available to the public – what is known as a food pod.
In November, the city published a request for proposals to manage the food pod. Todd was the only person who sent in a proposal. According to the city, Todd owns a food truck and has a background in restaurant management.
City staff have been in negotiations with Todd to develop a specific plan for operation and management of the food pod.
According to the agreement, the city will provide the installation of electrical service to the site in order to eliminate the need for portable generators creating noise and air pollution. The parks department will also provide picnic tables. Todd will be responsible for coordinating and recruiting trucks to the site and will charge rent to each vendor. Trash collection and removal, shade, portable toilet services, and hand washing services will all be provided by Todd.
The agreement also requires all food vendors to vacate the property once per week to allow the lot to be swept by the city's street sweeper. The hours of operation will be from 10 a.m. to 10 p.m. from April to November 2019.
Hermiston City Planner Clint Spencer said the agreement calls for at least four food trucks but no more than eight.
"We're trying this as a pilot program and we'll see how it goes," said Mayor Dave Drotzmann. "I'm excited about it."