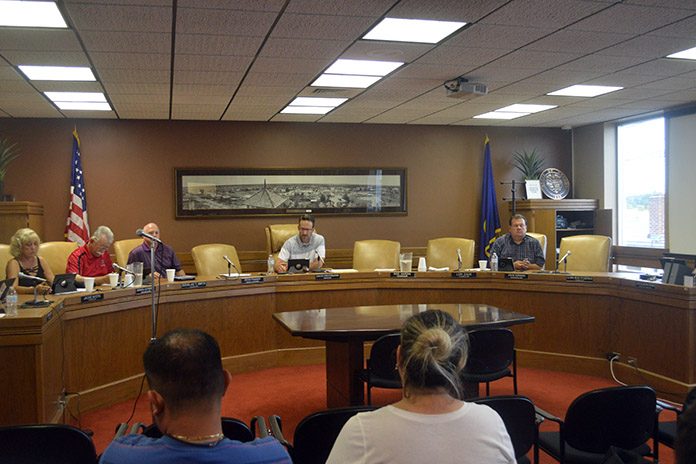 The city of Hermiston is working to update its mobile vending policies that will likely include a food pod where multiple food vendors will be located at a single spot in town.
The Hermiston City Council voted Monday night to direct staff to update the city's mobile vending rules and to look into creating a food pod in the publicly-owned parking lot across from the Post Office.
The mobile vending rules were first put into place in 2013 to address the issue of mobile food trucks that remained in the same spot without ever moving to a new location – sort of the opposite of mobile.
The 2013 rules required mobile vendors to get a license from the city as well as to move from its location each night. They were also required to provide up to five parking spaces for customers. Mobile vendors were also excluded from operating in commercial zones.
An online survey conducted by the city showed overwhelming support for a number of changes to the vendor rules.
According to the survey results, 80 percent responding want more permanent licenses; 89 percent want to allow food trucks downtown; 94 percent want a food pod; and 92 percent support temporary licenses.
Among the changes that will take place is the number of permanent licenses will increase from three to six and could go higher if a need arises.
The city will also issue up to four temporary licenses that are good for 90 days and will also allow mobile vendors to operate in commercial zones such as downtown.
As for the food pod, the idea is to have multiple vendors at one location. Under the new proposal:
The city would collect bids from the public to operate a food pod at the parking lot directly north of the Post Office on W Orchard Avenue for one year
The winning bidder would be responsible for recruiting vendors to the pod
The city is hoping that at least four trucks will be recruited
The winning bidder is responsible for providing portable restrooms and trash collection
All vendors must evacuate the property once per week for maintenance of the grounds
The city will provide tables within the pod
Once the new rules are ready and in place, the council will vote on them at a future meeting.