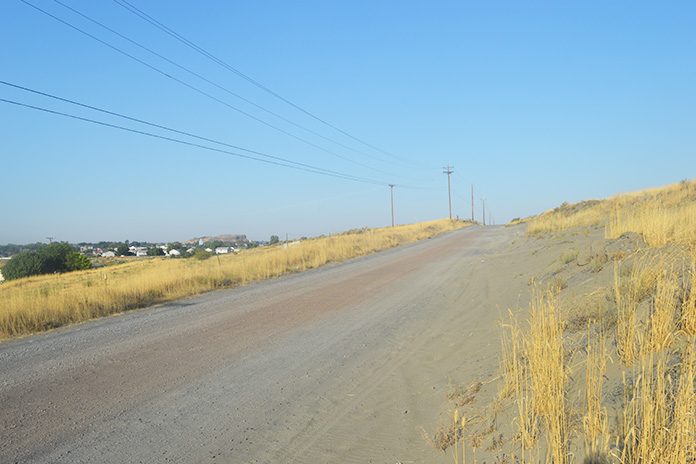 The Hermiston City Council will consider a $3.3 million construction contract Monday night which will carry out a partnership with Umatilla County aimed at accommodating more than 1,000 new housing units in Hermiston over the next decade.
"The Umatilla County Commissioners have been great partners on this project from conception to today," said Mark Morgan, assistant city manager.  "The city and the county have many shared goals to ensure that the region can continue to provide enough labor to meet growing industry demands, and one of the largest components of that is housing."
The water system improvements will bring adequate water pressure and piping directly to a large swath of developable residential land.  Within Hermiston's Urban Growth Boundary, these improvements will reach nearly 300 acres of residential land which is comprised of 13 individual parcels that are all at least 10 acres in size, and currently have no more than one home on them.  The large parcels with few existing improvements make it easier for builders to develop in to more housing.
"We believe that the best way to address a housing shortage is to grow our way out of it," Morgan said.  "The best way that we can do that is for the public sector to lay the groundwork to allow the private sector to build more housing at an affordable price."
The project, which will install a new 1 million gallon water tank and two miles of water main, will provide adequate water pressure for future housing developments out to the northern and eastern limits of Hermiston's Urban Growth Boundary.  The improvements are funded by a unique partnership between Umatilla County and the city of Hermiston by reinvesting negotiated Enterprise Zone Payments associated with recent developments in the area.
"Leveraging these Enterprise Zone payments directly in to utility infrastructure is absolutely an investment that will benefit all taxing jurisdictions in the area because it's all about reducing development costs to attract additional future private investment," Morgan said.  "If this investment helps stimulate just 10 additional homes per year, then that translates in to almost $14 million in additional property tax revenue for local jurisdictions over 20 years."
Under the terms of a March 2018 Memorandum of Understanding between Umatilla County and the city of Hermiston, the county will dedicate $2 million over four years toward the project, and the city will cover the remainder of the project costs.  As work toward development of these water system improvements began to gain steam through 2018, it has attracted interest from a number of housing developers.  Two developments, which are direct beneficiaries of the improvements, are now already at varying stages of moving forward on subdivisions which will result in approximately 160 to 180 new housing units over the coming years.
The new water piping associated with the project will extend down East Theater Lane, between N.E. Fourth Street and N.E. 10th Street, as well as along N.E. 10th Street between Theater Lane and Punkin Center Road, and will run along East Punkin Center Road between N.E. Fourth and N.E. 10th.  Morgan said most of the trenching work for the new piping will occur in the Right of Way, but will be well outside of the travel lanes along Punkin Center, and N.E. 10th.  He said there will be some periods of substantial traffic impacts along East Theater Lane, however, between N.E. 4th and N.E. Eighth streets during construction of that section of piping.  Additional detail on the exact schedule for those traffic impacts will be published as soon as a final project schedule is announced.  Overall, the project is scheduled to begin this spring  and run in to mid-2020.
The Oregon Business Development Department's Infrastructure Finance Authority is assisting with this project through a loan from their Special Public Works Fund.  Under the terms of the City and County's Enterprise Zone agreement, each entity will receive $500,000 per year beginning in summer, 2020, as a result of industrial development within the zone.  These scheduled payments were pledged toward an SPWF loan in order to speed up implementation of the project.
"IFA has been a crucial partner in the success of this project," Morgan said.  "These projects literally take years to complete, and we have a need for the improvements now.  Partnering with IFA allowed us to move forward immediately, while saving the city's bonding capacity and created substantial interest savings due to IFA's flexibility to allow early payoff."