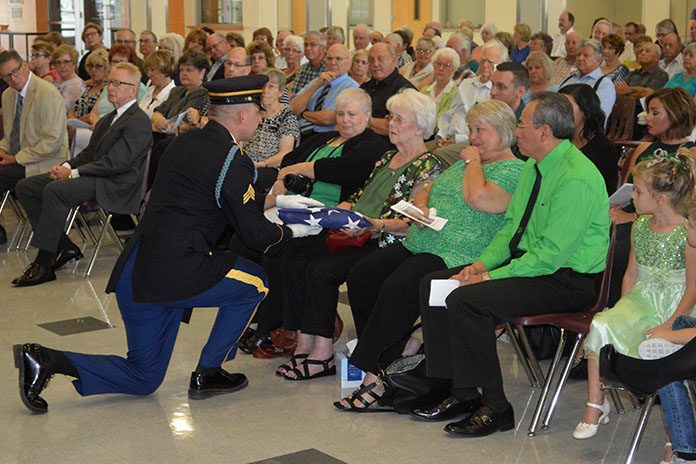 Frank Harkenrider would have enjoyed Saturday's memorial service in his honor. The former Hermiston mayor, who passed away in July at the age of 90, was remembered by friends, family and colleagues as a man who loved sports, politics, a good laugh, an impromptu dance, causing chaos, and most importantly – his hometown and his family.
Former Hermiston City Manager Ed Brookshier gave a moving and at times hilarious eulogy to a man he called one of our "greatest community pioneers."
Brookshier served as city manager during most of Harkenrider's tenure as mayor. He said Harkie, as everyone knew him, grew into the job and was adept at surrounding himself with people who he knew could get the job done.
During Harkie's 10 years as mayor in the 1990s, Hermiston's population grew by 50 percent. He helped bring the Walmart Distribution Center to Hermiston, was a vocal proponent for destroying the chemical weapons stockpile at the Umatilla Chemical Depot, and was a unwavering advocate for the city's senior population. In fact, the new senior center being built in town will be called the Harkenrider Center.
But there were two things, said Brookshier, that Harkenrider loved best: Parades and the press.
Brookshier said no one loved throwing candy to parade watchers more than Harkie.
"And when it came to the press, Harkie was like a moth to a flame," Brookshier said. The former city manager said Harkie had something of a sixth sense when it came to knowing when TV news crews from outside Hermiston were coming to town. He'd be out on the corner of Gladys and Second Street in front of City Hall awaiting their arrival.
He also had a special talent with which Brookshier became very familiar.
"One thing I will most remember about Frank was his amazing ability to create complete chaos and confusion," Brookshier said. "We would prep Frank on a particular subject and send him out and within hours Frank would have the town in complete chaos. That is, indeed, talent."
Harkie the family man was on the mind of many on Saturday, including his son-in-law Manuel Cardenas, who recounted the joy Harkie had in watching his daughters and grandchildren compete in sporting events.
Harkie's outgoing personality made it easy to be his friend.
"He loved his friends," said Cardenas. "A friend to him was a friend for life."
Brookshier recalled many times late in Harkenrider's life when he would drive by and see Harkie outside watering his yard by hand with a hose and waving to everyone who called out to him, even though he was pretty sure that by this time Harkie's vision was such that he probably didn't recognize who was calling out to him.
Harkie's love for Hermiston was legendary. Lifelong friend Bill Schoonover said Harkie "did not buy American. Frank only bought Hermiston. He was so dedicated."
His wife, Bev, was the last to speak on Saturday.
"After being married to Frank for 63 years, I think I deserve the last word," she said. Although he was born on Christmas Day, Harkie could not walk on water, Bev said. But, she quickly added, he did love people.
"If he was somewhere where he didn't know anyone – which was rare – he would strike up a conversation with a perfect stranger," she said.
Bev, who liked to call her husband the Energizer Bunny, said she had to subscribe to four newspapers "just so I could keep up with what Frank was doing."
She also noted the presence of Hermiston's first city manager, Tom Harper.
"Frank always said the best thing he ever did was hire Tom Harper as the first city manager and I'm glad Tom his here today."
And while she made clear that Harkie was no singer, he never missed a chance to break out some dance moves, even if it meant jumping on top of the bar at Hale's for a quick jig to Boot Scootin' Boogie.
One of Harkie's greatest hallmarks, said Bev, was he never held a grudge and never stayed angry for very long.
"Frank, you are no longer by my side or five steps in front of me, but you're forever in my heart."
The service ended appropriately with the Hermiston High School band playing the Bulldogs' fight song and a standing ovation from the crowd of several hundred.