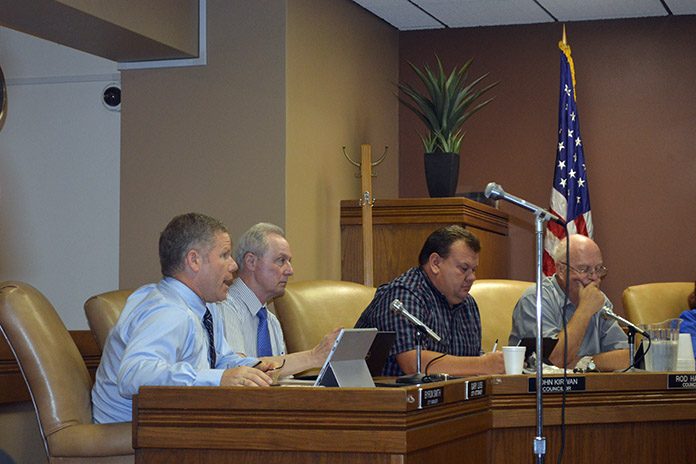 Hermiston City Manager Byron Smith received a $5,000 raise and an extra year on his contract during Monday's Hermiston City Council meeting.
The raise and contract extension came following an executive session in which the council members and Hermiston Mayor Dave Drotzmann gave Smith a performance review. Smith became Hermiston's city manager in August 2014. He has spent much of the past year working as chairman of the Eastern Oregon Trade & Event Center (EOTEC) committee. His work to get the Umatilla County Fair and Farm-City Pro Rodeo off the ground at the new EOTEC was highly praised.
"We appreciate your service to the city," said Drotzmann. "It's been a challenging year and it took a lot of extra work."
Smith's contract now runs through August 2019. With the raise, Smith will now make $137,00.
In other council news, Assistant City Manager Mark Morgan gave an update on the new bus service that runs through Hermiston. The Hermiston Area Regional Transit (HART) began service in January.
The bus route makes several passes through the downtown area each hour, and was also designed to deliver riders to three major destinations: grocery stores; medical offices; and downtown Hermiston. In order to facilitate ridership, the route was also designed so that every home in Hermiston is within at least a 5-7 minute walk from a bus stop.
Morgan said, however, that there have been several bus stops that have had few riders during the year and will be dropped to speed up the time it takes for the bus to make its route through town.
For example, the bus will no long pick up passengers at Riverfront Park. Morgan said the bus has picked up just 13 people at the stop this year.
"We hope that by cutting a few stops, we'll get it so it takes less than an hour for the bus to make its route through town," Morgan said.