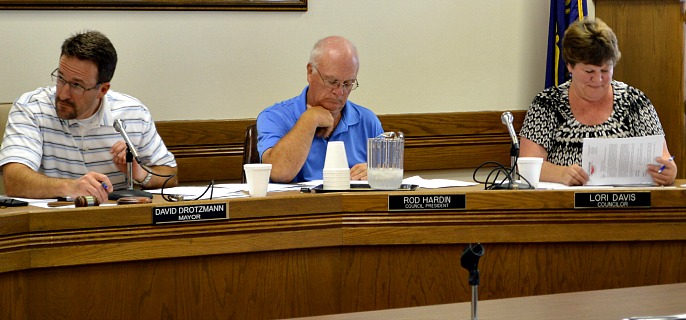 It's official – Byron Smith will begin the job of Hermiston city manager on Aug. 25. The Hermiston City Council voted Monday night to approve a two-year contract for Smith with a base pay of $115,000.
Smith will succeed Ed Brookshier who is stepping down after nearly 23 years as city manager. Smith's contract also provides him with $25,000 to cover relocation expenses for him and his family, and $350 per month for use of his private vehicle for business purposes.
Brookshier has agreed to serve as adviser and consultant to Smith for the remainder of the year.
"He'll have some pretty big shoes to fill," said Hermiston Mayor Dave Drotzmann. Brookshier noted that Smith enters the job with a couple of similarities to himself when he first became Hermiston's city manager. Brookshier was 45 when he first came to Hermiston, while Smith is 44. Brookshier had 19 years of experience in municipal government, while Smith has 17. And they both came from the Midwest – Brookshier from Missouri and Smith from Iowa.
Since 2009, Smith has been the city manager in Ford Madison, Iowa, population 11,000. Prior to that he served for three years as assistant city manager and city planner for Poplar Bluff, Mo., and was with the League of Arizona Cities and Towns, in Phoenix from 1998 to 2004.
Also at Monday's meeting, the council approved a new three-year contract with the Hermiston Police Association. The contract runs through June 30, 2017 and calls for a wage increase of 1.75 percent the first year, 2 percent the second year and 2.25 percent during the third year.
The contact also includes a 2-percent pay increase as an incentive to employees who are bilingual. Current employees who are already bilingual will automatically receive the pay increase. Future employees will have to pass an aptitude test to receive the increase.
"I appreciate the bilingual incentive," said Drotzmann. "We are a diverse city and this reflects our community." Edmiston said he hopes the incentive spurs more department employees to learn Spanish.
"For a long time our folks who are bilingual get called on even when they're not on call," he said.
The contract also provides an increase in incentive pay for employees' continued education. The incentive pay for pursuing an associate of arts degree was increased from $125 per month to $150, and the incentive pay for pursuing a bachelor's degree went up from $200 per month to $250.
Brookshier said the negotiations went well.
"It was a very cooperative process between the association and the city," he said. Edmiston added that he was pleased to have the contract signed prior to Smith arriving in Hermiston next month.
"Getting it wrapped up before the new city manager on board is healthy," he said.
More Stories from Northeast Oregon Now:
Crowds Try to Beat the Heat at FunFest
Sheriff's Office Looking for Robbery Suspect
Weather Service Issues Heat Advisory