Many people walking or driving around Hermiston have noticed the increase in the number of homeless people camping in city parks and other public places.
The Hermiston City Council has noticed it, as well, and passed an ordinance Monday night to address the rise in campsites on city property.
The ordinance amends the Hermiston Municipal Code by amending three chapters and adding another. The changes address the time, place and manner in which people experiencing homelessness can stay or "rest" on public property.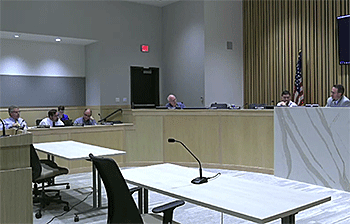 City Manager Byron Smith reminded the council that the state passed a law two years ago that prohibits cities from preventing a person from resting.
"But it does give us the ability to put time, place and manner restrictions on resting," he said. Smith said the ordinance was written in collaboration with the Hermiston Police Department, the Parks and Recreation Department and the city attorney, Rich Tovey.
"We took a look at what other cities are doing on this topic and tried to fashion a solution that fits Hermiston and our approach to this challenge," Smith said.
Construction is under way on the PATH project, a temporary homeless shelter located between Hermiston and Umatilla. It will have 20 units for individuals to stay in once it is ready later this fall. The ordinance passed Monday night affects the homeless when there are no shelter beds available or transportation to the shelter.
Key aspects of the ordinance include:
Resting can occur between 7 p.m. and 7 a.m. A person's property must be removed from the site after 7 a.m.
After 7 a.m., individuals must move at least one block
Resting is prohibited on playgrounds, city parking lots and sidewalks unless there is 36 inches of available space for a person to pass by
Resting is prohibited within 750 feet of a public or private school
Resting is prohibited within 20 feet of a building, under roads, bridges, on or near railroad tracks or at the cemetery
Homeless individuals may not accumulate or leave behind garbage, including human waste
Homeless individuals may not dig or excavate
Homeless individuals may not obstruct public or private property
Homeless individuals may not erect permanent or temporary shelters (this does not include tents or tarps)
Campsites must be smaller than 10-feet-by-10-feet
May not make unauthorized utility connections
No open flames
Storage is limited to items for person use
Vehicles must be legally parked outside of residential areas
Vehicles must be moved every 24 hours
No storage or items allowed outside of the vehicle
Violations are a Class D violation which carries a $115 fine
Mayor Dave Drotzmann asked what vehicle movement means.
"Is it one foot, one block or six blocks?" he asked.
Smith said staff would look at what other cities are doing and add specific language to define vehicle movement.
Councilor Roy Barron asked how homeless people who are found in violation of the ordinance would pay the $115 fine. Smith said a judge would have discretion to impose community service in those cases.
Mark Gomolski, executive director of the Agape House, commended the city for addressing the issue with the ordinance, but said time is of the essence as more people are coming from out of the area in the hope of finding shelter.
"It is definitely needed," he said. He said people have showed up at Agape House from Portland because they wanted to get on a waiting list for the PATH shelter. He said he is aware of people getting bus tickets from Portland, being dropped off at Pilot and walking into town.
"This is really happening," Gomolski told the council. "You could get an influx in the next couple of months, especially when the weather starts changing."
He also has heard from parents who are concerned about their children walking to school or to 7-Eleven for lunch.
"The kids are being harassed for money or having sexual innuendos made at them," he said. "People don't feel their kids are safe. Seniors don't want to walk in the parks because they don't feel safe."
Hermiston resident Dave Dorran told the council that the ordinance is needed based on what he has seen from his house located near Hodge Park.
"We are seeing quite a big influx of homeless," he said. "My concern is it's a different culture that's moving into the parks. It's almost a criminal culture. I applaud this (ordinance)."
Jake Bacon of the Hermiston School District also commended the council for addressing the homeless issue. He read a letter from School Superintendent Tricia Mooney applauding the city for the ordinance.
"The ordinance creates fair and enforceable rules regarding use of public areas and will improve the safety of our students," she wrote.
Drotzmann said the ordinance makes it clear what is and is not allowed on public property and is fair to both the homeless population and the community as a whole.
"This is our first attempt as a community in trying to put some coordinated definitions in place to help our officers and other agencies manage the challenges that are created by homelessness," he said. "We have a lot of law-abiding citizens that deserve a safe place to raise their family. It's incumbent upon us to look out for those people, as well, and this is a reasonable attempt to do this."
To read the full ordinance, click here.