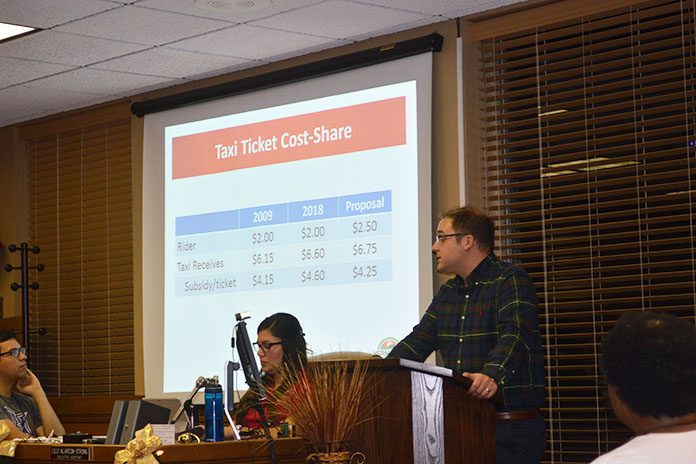 Riders of Hermiston's Senior & Disabled Taxi Ticket Program will pay 25 percent more for a one-way ticket beginning Jan. 1.
The Hermiston City Council voted unanimously Monday night to raise the price of a one-way ticket from $2 to $2.50. It is the first time ticket prices have gone up since 2009 when they were increased from $1.75 to $2.
The program is for seniors 62 and over and anyone with a proven disability.
Hermiston Assistant City Manager Mark Morgan said the city subsidized approximately 17,500 taxi rides both in 2016 and 2017, but has seen a large jump in 2018. He expects the ridership to total nearly 23,000 this year. The current redemption value paid to the taxi company per ticket is $6.60, which has risen from $6.15 per ticket in 2009. Monday's action by the council will increase the redemption value to $6.75. That essentially means the city will pay the taxi company $4.25 to cover the cost of each ride provided.
Other factors for the ticket increase, said Morgan, is labor costs. Most taxi drivers earn approximately $11 per hour.  The current minimum wage as of July is now $10.50 per hour.  The local minimum wage is set to climb each year, for the next four years, reaching $12.50 per hour in July, 2022, when it will begin to index annually with inflation.
Morgan said he expects to see a surge in ticket purchases between now and the end of the year as riders will likely stock up on the $2 tickets.