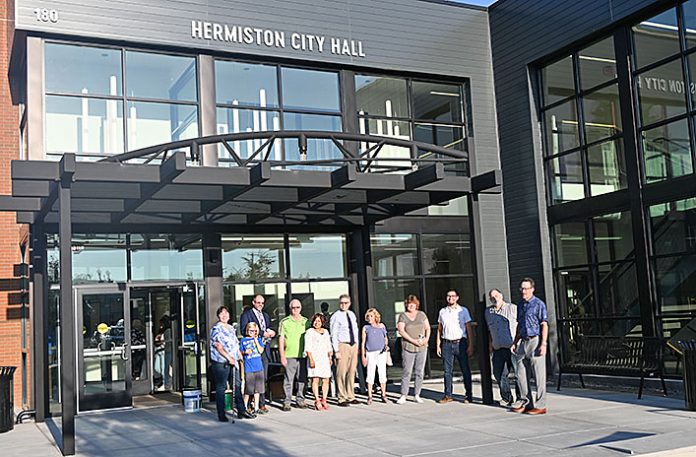 In December 2019, Hermiston's ugly duckling of a city hall was closed for good following a furnace fire in the 54-year-old former bank building. The structure was demolished in the spring of 2021 and from that rubble a beautiful new swan has emerged.
Members of the Hermiston City Council and other city officials spent their work session Monday evening touring the new city hall.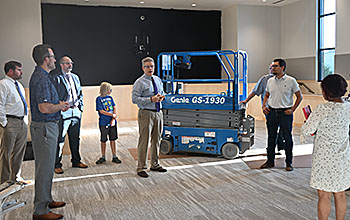 The last time the council toured the new building was in late February when hard hats were required, and the inside looked skeletal. On Monday, it looked fairly complete minus furniture and wall art.
"We'd really love to have local art and some historical photos to go on the walls," said Hermiston City Manager Byron Smith.
The 22,000-square-foot building will be more than double the size of the old city hall. "This is a little bigger than we need right now but we don't plan to stop growing," said Smith.
When it officially opens, the new city hall will allow the city to consolidate its various departments into the same building, rather than having the building department in a separate building and the planning department in another and the municipal court in still another.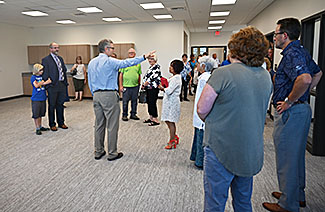 The new city hall will have space for municipal court, which has been operating out of the police department's building, giving the police department room for expansion. The new city hall will also house both the building department and planning department on the same floor, which will be called Community Development.
The new building will have space for attorneys to meet privately with clients. The county will have office spaces available downstairs while Hermiston Energy Services will operate from the upstairs.
The city hall will also feature a state-of-the art security system and fire suppression system.
Smith said he anticipates the new city hall opening in sometime in mid-October.
"We hope to hold the second council meeting of October in here," said Smith on Monday.