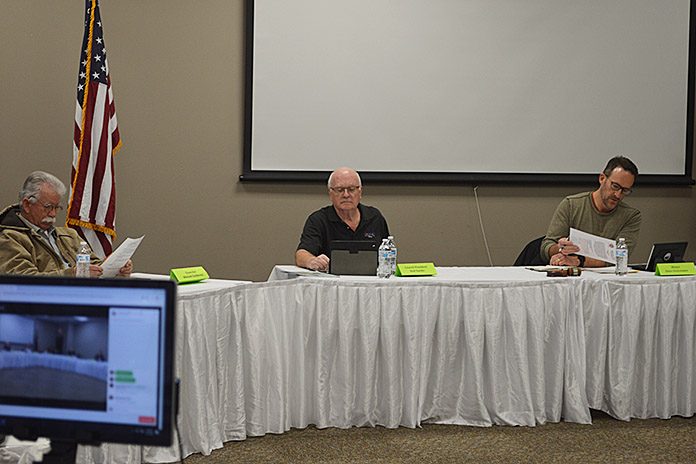 The Hermiston City Council held a public meeting Monday night without a single member of the public in attendance – yet another sign of the growing concerns over the coronavirus pandemic.
The virus was the primary topic of discussion Monday night with the council voting to meet just once over the next two months in an effort to reduce the risk of exposure to the virus. The council typically meets on the second and fourth Monday of each month, but the city charter only requires it to meet monthly.
Hermiston City Manager Byron Smith suggested the council meet just once a month in April and May and then re-assess the meeting schedule at that time. No one pushed back on that suggestion.
Councilor John Kirwan said these are extraordinary times that require extraordinary measures to protect the public. And while no one risked exposure by attending Monday's council meeting, Kirwan said it does not appear the public is taking the coronavirus as seriously as they should.
"We're in this situation because people are not taking action," he said. "If you went into Wal-Mart yesterday at noon, it was like any other day. It was full of people, young and old."
Perhaps, Kirwan said, the action required seems counter-intuitive.
"When have we ever asked people to save the world by staying home?" he asked. "This is where we are at. We all have to make sacrifices."
Hermiston Mayor Dave Drotzmann encouraged the public to heed Gov. Kate Brown's advice to stay home and away from crowds – including playgrounds.
"I've been on three conference calls with the governor," said Drotzmann. "She has been very thoughtful and has asked what our needs are. She's been very engaged in the process and it's our responsibility to support her. All of us could be carrying the virus and we don't know it."
The city's various committees will also postpone upcoming meetings for the time being.
For the next two months, the Hermiston City Council will meet on Monday, April 27, and Tuesday, May 26, the day following Memorial Day.
Monday's council meeting, held at the Eastern Oregon Trade & Event Center, was streamed live on the city's Facebook page. Watch the meeting here.