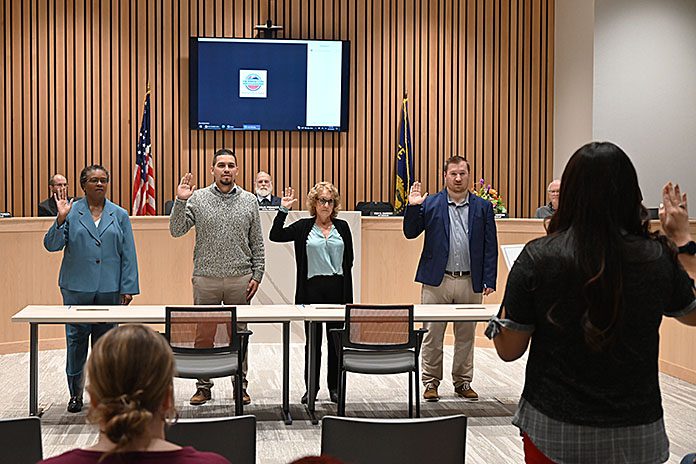 Jackie Linton made Hermiston history Monday night, but it wasn't her plan.
Linton, along with David McCarthy, Jackie Myers and Roy Barron took the oath of office at the end of Monday's Hermiston City Council meeting. In doing so, Linton became the first Black member to sit on the council.
Linton said afterward, however, that she wasn't trying to be a trailblazer.
"It wasn't even my intention – it was an accident," she said with a laugh. "All I want to do is be involved."
Linton may be a new councilor, but she will be far from a new face at council meetings. For years, Linton has been regular presence at meetings, often giving her views on agenda items during times set aside for citizen input.
Beginning with the first council meeting of 2023, Linton will have a vote on every matter before the council.
"It feels awesome," said Linton, who had many family members and supporters in attendance to watch her take the oath of office. "I'm so excited and looking forward to being part of the decision-making process."
Linton defeated incumbent Lori Davis in a close election in May. On Monday night, Davis gave Linton a bouquet of roses.
"That was incredible," said Linton. "Lori is so nice."
Myers, who was re-elected to her seat in May, praised Davis for her time on the council.
"You are a good friend and a good councilor," said Myers. Barron also thanked Davis for her support during her years on the council.
"If I ever had a question on any topic, you were always available to talk to me," Barron told Davis.
McCarthy will be making his second stint as a Hermiston City Councilor. He served for six months in 2020 after being appointed. He lost a bid for a full term in 2020 by just 80 votes.
"That was enough encouragement for me to try again," he said. McCarthy defeated incumbent Phillip Spicerkuhn in May.
Barron said he will miss Spicerkuhn's insightful questioning during meetings.
"I wish I was as smart as you," he told Spicerkuhn. "You've had some really good questions that a lot of us had never considered before." Myers called Spicerkuhn "a conscientious councilor."
Spicerkuhn said he's enjoyed his time on the council.
"It's been wonderful serving and getting to know all of you," he said. "Everybody's perspective here is needed and necessary."
Davis said she will look back on her time on the council with satisfaction.
"I can't believe all the projects accomplished in the past few years and the possibilities ahead are endless," she said.