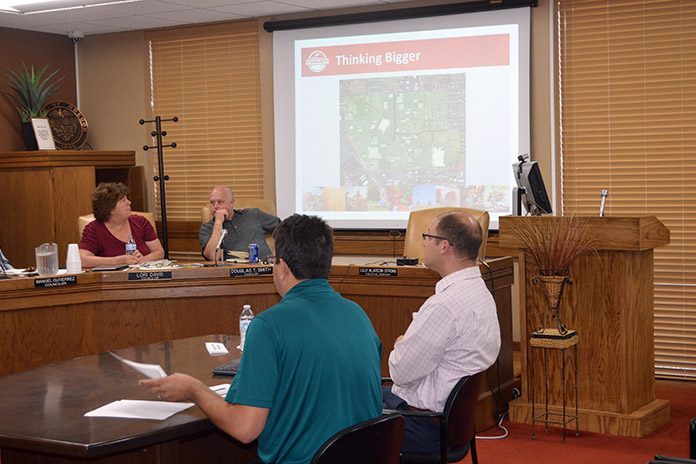 The city of Hermiston is continuing to work to attract retail development in town and is considering forming a Local Improvement District to help those efforts.
On Monday, the Hermiston City Council held a work session on the topic, focusing its attention on a 15-acre piece of property adjacent to Walmart and fronting Northeast Fourth Street.
A Local Improvement District (LID) is a way to make infrastructure improvements in which property owners share in the cost of infrastructure improvements.
Hermiston City Planner Clint Spencer and Assistant City Manager Mark Morgan outlined for the council how an LID works and what it could accomplish.
By forming such a district, tax revenue generated from the affected properties would pay for the improvements over a period of years.
Among the proposed improvements would be a new street running north and south that leads to the north side of Walmart. The proposed district would also include the two pieces of undeveloped property in front of the Aspens on Northeast Fourth Street, and possibly property on the west side of Highway 395 if the council chooses to expand the size of the district. That could allow for additional traffic infrastructure improvements, as well.
Mayor Dave Drotzmann asked Spencer and Morgan to come back to the council with cost estimates for the new road. Drotzmann also wants to see estimates on how much assessed value the property would need to generate in terms of property taxes to see if that would cover the cost of the new street.
Hermiston is no stranger to the LID concept. Over the decades, more than 300 LIDs have been formed to help pay for streets and sidewalks among other improvements, said Morgan.
Another possible option is to forego the LID option and expand the city's Urban Renewal District. Drotzmann asked Morgan and Spencer to consider that option and present the council with their findings at a future council meeting.