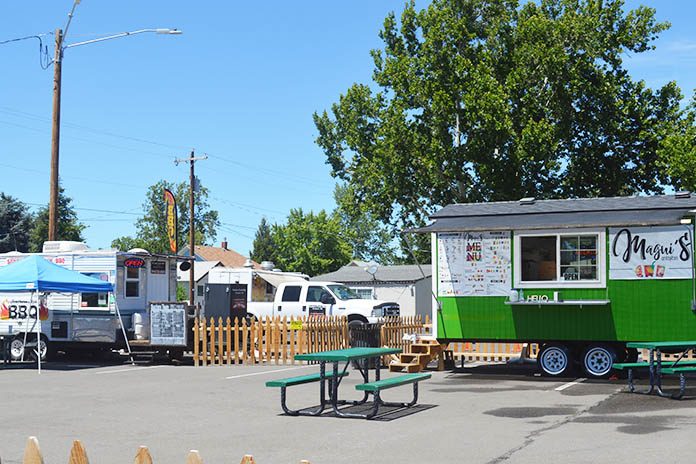 The Hermiston City Council narrowed the choice for a permanent food pod to three possible locations during a work session Monday night.
In the running are Butte Park, Newport Park and the current location on Orchard Avenue across from the Post Office.
City staff and City Planner Clint Spencer said the preferred option is the current location on Orchard Avenue. Its advantages, said Spencer, include space enough for six to eight vendors, it's close to downtown with good visibility, plenty of traffic, and it's already established in the public's mind. Its drawbacks, said Spencer, are a lack of shade and no permanent restrooms.
Newport Park is also close to downtown and has plenty of shade and a permanent restroom. It would, however, allow for only four vendors.
Butte Park is more out of the way from downtown traffic, not as visible as Orchard Avenue and would cost the most ($184,000) to make it fully operational, whereas Newport Park would cost just $89,000 and Orchard Avenue would cost $180,000.
Patrick Hunt, a vendor operating out of Orchard Avenue, said he and his customers prefer staying put.
"I'm a little worried that if we move, will the people follow?" he told the council.
Mayor Dave Drotzmann said he likes Butte Park for several reasons, including the fact that it already has restrooms, there's plenty of shade and large crowds gather there during the warmer months of the year.
Drotzmann also said not to discount traffic in the area. Butte Park is near several large employers including Good Shepherd Medical Center, Umatilla Electric Cooperative and Rocky Heights Elementary School.
"I'm not so sure you can't create the same type of atmosphere at Butte Park but with restrooms, shade and grass," he said.
A final decision will likely be made later this summer.