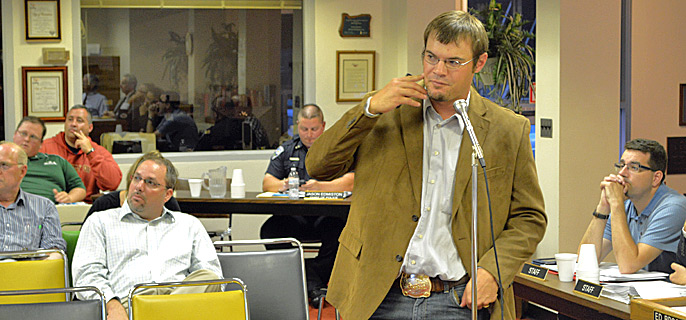 A new organization aimed at advocating at the state level for local water users gained a key member this week when the city of Hermiston came on board with a $63,000 commitment.
J.R. Cook, founder and director of the new Northeast Oregon Water Coalition (NOWA), spoke before the Hermiston City Council on Monday, outlining the goals and mission of the new advocacy group.
"We do the boring stuff – that's what NOWA is really for," Cook said, referring to maintaining a presence in Salem to advocate for local water users. "That's the only way we get to the pipes, pumps, roads, buildings and other fun stuff that actually moves our economy forward."
Cook, who is also the executive director of the Umatilla Basin Water Commission, is actively seeking public entities, private businesses and agricultural producers to join NOWA and pay $1,000 in annual dues.
"Rather than have just everybody join this for free, we're trying to tell you that if you want water, then put some skin in the game," Cook said. "It's a lot better for you as a small farmer to pay $1,000 and blend that in with the large farms for us to go out and get you some water. That's a pretty good investment to pay $1,000 versus trying to find your own water or build your own pipes."
Beyond the $1,000 in annual membership dues, Cook is also seeking seed money from those entities that can afford to contribute more. That's where Hermiston comes in. The council voted Monday night to contribute $21,000 a year over the next three years.
"I believe NOWA will prove to itself as our area's best vehicle for needed water-related legislation in Salem and for the development of new agricultural water resources both now and going forward," said Hermiston City Manager Ed Brookshier. The $63,000 will come out of the city's Transient Room Tax Fund.
Cook said there is momentum in Salem to get more water for local users and "this is our time to take advantage of where we're at."
Brookshier said Hermiston's economy stands to benefit the most from water-related gains coming out of Salem.
"We need to be on the ground floor," he said. "We need to be active participants in this effort and we need to put our money where our mouth is."
Hermiston City Councilor George Anderson said he's been watching efforts to access more water for the region for 35 years and little has come from it.
"It's fascinating, after all this time, to see there are actually some possibilities," he said.