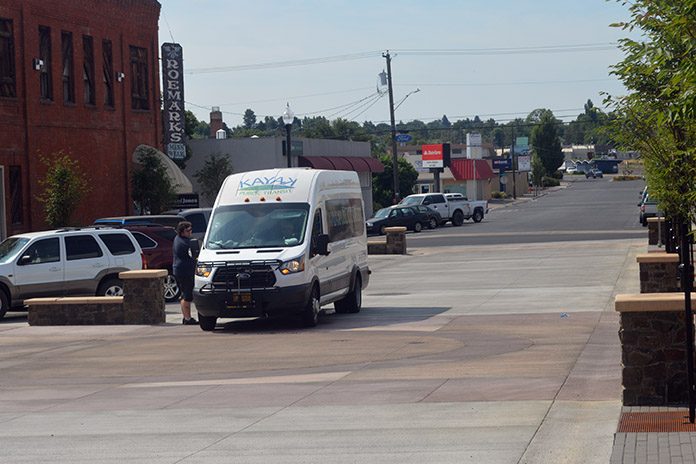 Ridership on Hermiston's recently-created "HART" fixed-route bus service is on track to rise by 75 percent in 2018 – a steep climb from its first full year of operation in 2017.
Ridership data from KAYAK Public Transit shows nearly twice as many people used the service in the second quarter of 2018 compared to the year prior.
"We knew that this is the type of service that people will have to learn and get used to, but once they do, that ridership would really start to climb," said Hermiston Assistant City Manager Mark Morgan.
The HART's first month of operation, in January, 2017, showed 168 riders, which included public service providers and others who rode to learn about the system.  That number soon climbed to 283 riders in November.  Just a few months later those numbers have climbed to 355, 386, and 459 in April, May, and June 2018 respectively.
"Last year was really all about figuring out what worked best for the system and listening to the riders," Morgan said.  "Based on that feedback we've sped up the timing, added circuits, and eliminated un-used stops, so now I think we have a very useable system with no real changes planned."
Advances in technology are also helping drive ridership by making it easier for riders to understand the bus system's schedule.  The HART schedule is now easily accessed using online mapping tools, like Google Maps.  Riders now simply have to type their destination, such as"Fiesta Foods Hermiston," in to a search engine on their smart phone, then assuming their GPS is turned on, the mapping software quickly shows the easiest and fastest way to get to that destination using the HART.  The software shows when the next bus will arrive, and how long it will take to get to the destination.
The HART is a partnership between the city of Hermiston and the KAYAK Public Transit System.  The HART is free to all members of the public regardless of age, income, or physical ability.  Prior to 2017 there was no public transit option for members of the general public within Hermiston, other than a taxi.
"I think there's still a misconception among the community that the HART is only for the elderly or the disabled," Morgan said, "when in fact the ridership data shows the opposite taking place."
Ridership data for the second quarter of 2018 shows that of the 1,200 riders on the HART, only 39 percent were identified as being a senior or disabled.  Usage estimates for the remainder of 2018 project total ridership for the year to be between 4,500 and 5,000 rides.