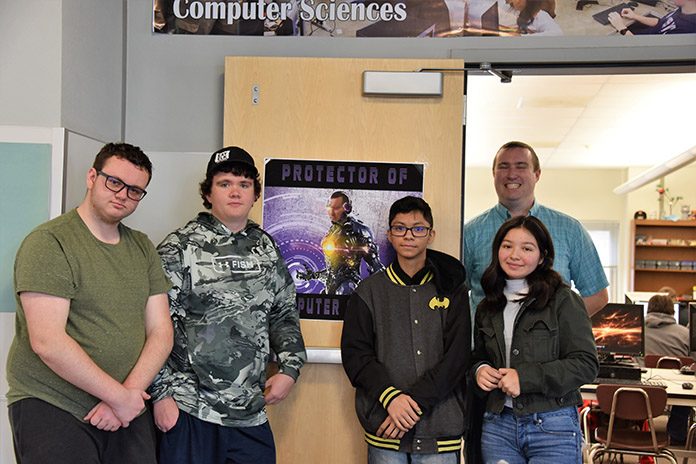 Four Hermiston High School students have won the 2019 Congressional App Challenge (CAC) for Oregon's District 2.
Seniors Rogelio Lemus, JJ Fitzgerald, Laine Whelan and junior Adamaryz Lopez Navarrete were notified by U.S. Rep. Greg Walden's office that they had won. The four-person team created an application called FINANA (Finances Incorporated Nationally Allowing Non-profit Automation).
The app was created to assist non-profit organizations in managing their fundraising activities, allowing an individual the ability to add inventory to the non-profit organization's account. The inventory then goes to a store page, where it is all displayed in easy to press buttons. The app also provides a cashier with the total of all the purchases for the cashier and subtracts the items from the inventory. Originally, Rogelio Lemus came up with the concept, when trying to assist his church with their fundraising activities. The team created a video to explain their application.
HHS computer science teacher Robert Theriault said this is the fourth year that Hermiston High School participated in the CAC competition. Each year more students enter the challenge and hope to have the winning app. This year, three teams applied.
"The FINANA app stood out because it had a great amount of detailed coding, which I feel, contributed to its success," said Theriault.
The winning team has been invited to attend the House of Code in Washington, D.C., next spring, to show and explain their app to members of Congress. In 2016, Courtney Cash, Marvin Hozi and Jordan Liebe were the first Hermiston High School winners of the Congressional App Challenge.
The mission of the Congressional App Challenge is to inspire, include, and innovate efforts around STEM, coding, and computer science education. It is the most prestigious prize for a computer science student.