Hermiston School District Athletics and Activities Director Larry Usher announced Bryan Edwards as the new Hermiston High School head boys basketball coach.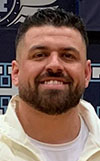 Edwards has coached at Columbia Basin College in Pasco, Wash., for the past three years –   two as an assistant coach and most recently as head coach.
"Bryan brings a lot of experience in working with players of all ages and ability levels," said Usher. "He has tremendous positive energy in the gym and respect from the basketball community in our region. We look forward to him bringing all of this to our program in Hermiston."
"I couldn't be more hyped to lead the Hermiston men's basketball program," said Edwards. "I am anxious to roll up my sleeves and get to work."
Edwards is a Hermiston native. He has two daughters Everett and Eastlyn.