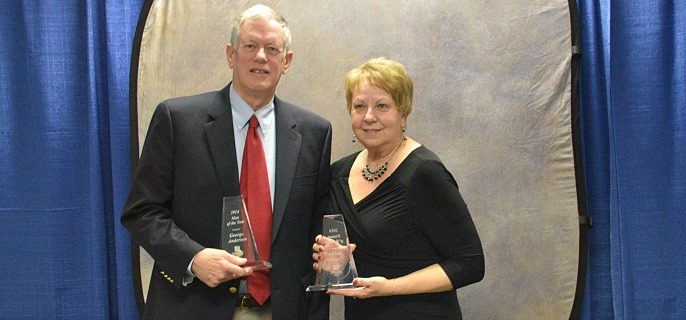 George Anderson and Shirley Parsons have taken different paths in life, but they both arrived at the same place Wednesday night – up on the podium to receive Man and Woman of the Year awards during the Hermiston Chamber of Commerce's Distinguished Service Awards banquet.
Sharing the spotlight were Volunteer of the Year Teresa Moncrief, Community Service Award winner Tom Denchel Ford Country, Altrusan Outstanding Young Citizen Award winner Skylar Grigg, and Business of the Year winner Affordable Family Eye Wear, along with the Hermiston School District's Educators of the Year and Administrator of the Year.
Man of the Year
State Sen. Bill Hansell didn't waste any time in announcing longtime Hermiston attorney Anderson as the Man of the Year – and he had some fun in the process.
"George, pretend we're in a courtroom and I'm the judge," Hansell said. "When the judge speaks, you just have to sit and listen."
Hansell noted, as many others have, that Anderson has had his fingerprints on just about every facet of Hermiston's development over the past 30-plus years. His contributions to Hermiston include helping to entice Wal-Mart to locate its distribution center in town; working on the development of the regional water supply; the development of the Eastern Oregon Trade & Event Center (EOTEC); enhancing educational opportunities at Blue Mountain Community College; and serving as a powerful advocate for the area's ag industry.
Anderson has provided his legal expertise at no cost to numerous people and organizations over the years.
As Dennis Barnett said in a nominating letter, Anderson has never been one to back down from a fight.
"Those fights are always for the betterment of his clients or his community," Barnett wrote. "He has taken bullets for all of us at one time or another, fighting for the truth. While a large number of people believe what George does, they will not take the heat for the battle. His reputation as confrontational comes from the fact that he cares, and will not allow bullies to try to push through agendas that do not benefit our community."
Anderson received support for his award from nearly two dozen citizens, many of whom cited his tireless commitment to Hermiston. Over the years, he has served on the Umatilla Planning Commission, the Hermiston School Board, Hermiston City Council, the Hermiston Development Corporation, the Blue Mountain Community College Board, the Umatilla-Morrow Counties Regional Strategy Board, the Umatilla Army Depot Local Reuse Committee, and the Eastern Oregon Trade and Event Center Steering Committee. Anderson has also been a vocal supporter and advocate for the Hispanic community, serving on the Hispanic Advisory Committee and helping to plan the annual Cinco de Mayo celebrations.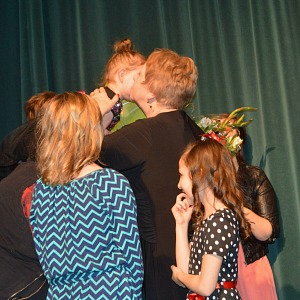 Hansell said that Anderson could have chosen to live anywhere, but he chose Hermiston "and the people have benefitted greatly from that decision," Hansell said.
When he took to the podium to accept his award, Anderson chastised Hansell for leaving out one of his characteristics:
"Bill, you left out that I'm warm and cuddly," he said, as the room filled with laughter. He thanked his wife, Karen, whose support, he said, "allows me to do these crazy things."
He also made note that his three adult children have all returned to Hermiston after their education.
"And they, too, will make Hermiston a better place to live," he said. "And Hermiston is filled with educated children who will return home to make it a better place to live."
He also said it has been a privilege and an honor to assist the Hispanic community.
"They have enriched my life," he said.
Woman of the Year
Parsons has been a longtime realtor in Hermiston and takes an active role in community service work.
She has served as president of the Columbia Basin Board of Realtors, served on the National Association of Realtors and directed local chapters to institute a set of core standards.
Art Kegler, owner of American West Properties in Hermiston, said Parsons "was a solid success marketing Desert Sky Estates" and is a "top producer at American West Properties." She was named Realtor of the Year in 2005.
She was also instrumental in collecting over 50 shoe boxes with gifts for donation to underprivileged children around the world, as well as putting together "love boxes" for the troops. Parsons has also been a supporter of Agape House.
She is active in her church, having taught Sunday school and has been a leader in youth groups around the area. She was also instrumental in starting the local youth wrestling booster club, served on Little League and Babe Ruth boards and coached T-ball.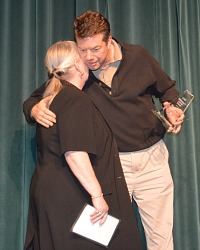 Parsons is also active in the Hermiston chamber and served on the chamber board, and participated as a member of the chamber's Political Affairs Team.
Kelly Bissinger also mentioned that Parsons is well known for her love of shopping.
"The family joke is that when she passes, they will have her cremated and spread her ashes in the aisles of her favorite Ross Dress for Less store," he said.
"For the first time in my life, I'm speechless," an emotional Parsons said as she accepted her award. She was then greeted by numerous members of her family, for whom she thanked for all their support over the years.
Chamber Volunteer of the Year
Moncrief has been a chamber ambassador for more than 20 years, serving as the group's secretary for many years.
State Rep. Greg Smith said Moncrief has also played an active role in the Eagles Auxiliary, the Elks, Relay for Life and hospice. She is a longtime member of Altrusa International, and is a member of the Emblem Club.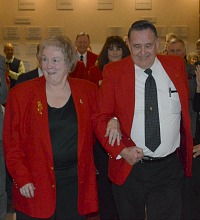 Chamber President Debbie Pedro said Moncrief has helped organize countless golf tournaments and orientation meetings with new chamber members and new ambassadors.
"It seems like no matter how busy she is with her family commitments she always finds the time to give back to her community," Pedro said.
Community Service Award
Umatilla County Fairgrounds Manager Peggy Anderson said Wednesday night that community service is often talked about, hard to define, but easy to identify, and that Tom Denchel Ford Country exemplifies community service.
"This business has been an integral part of our community for many years," she said. "I personally have known them from the fair side when they became a Gold Sponsor for the Umatilla County Fair in 2006. Not only do they support the fair and our fair court, but most importantly they support the youth in our community and our county."
The car dealership has supported Little League, youth basketball, track, football, drama, band, golf, and dance teams. It has also provided support and assistance to the Hermiston Festival of Trees, Hermiston Education Foundation, Hermiston FFA, Farm Fair, Hermiston Lavender Festival, Umatilla County Fair, Hermiston Fun Fest, Agape House and Martha's House, Meadowood Speech Camp, Hermiston Christian School, Hermiston Junior Academy, among others. Tom Denchel Ford County has also donated $60,000 dollars to Hermiston High School over the years.
Bob Severson Rotary Business of the Year
Hermiston Rotary Club President Bryn Browning called Affordable Family Eye Wear a "classic Hermiston success story." It started eight years ago as a one-person shop and grew with the city.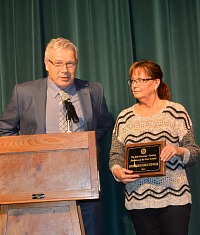 Owners Marcia and Allan Lambert have reached out to local schools to offer eye exams to students, even if they could not pay for the service. They have also provided free eye care to the homeless and have spent time in the South Pacific helping to restore the eyesight to hundreds of underprivileged people. They have also supported FFA programs, the Hermiston Education Foundation, Relay for Life and more.
Marcia Lambert said their time in Hermiston has been rewarding.
"When we came to this community, I knew we could grow with Hermiston," she said. "Thank you, Hermiston."
Altrusan Outstanding Young Citizen
Hermiston Altrusa International President Dorothy Smith described Skylar Grigg as someone "who cares about others and always wants to help."
Grigg, a Hermiston High School junior, teaches Sunday school, volunteers for the Lions Club, and serves as a counselor for Sunset Elementary School's outdoor education program.
He is also a member of the Honor Society and has a 3.72 grade point average.
Educators of the Year
Also honored Wednesday night were the Hermiston School District's Educators of the Year:
• Susan Thurman, fourth grade teacher at Highland Hills Elementary School
• Ibbet Velasquez, first grade teacher at Rocky Heights Elementary School
• Susan Scheibner, second grade teacher at Sunset Elementary School
• SuAnne Fitzgerald, fifth grade teacher at West Park Elementary School
• Cathy Duffy, special ed teacher, districtwide
• Joseph Thornton, Pathfinders teacher at Hermiston High School
• Joshua Browning, language arts teacher at Hermiston High School
• Chelsea Bergstrom, math teacher at Armand Larive Middle School
• Tracy Hodges, ELL teacher at Sandstone Middle School
• Linda Mruk, kindergarten teacher at Desert View Middle School
• Dr. Jon Mishra, Administrator of the Year, Special Programs director, Hermiston School District