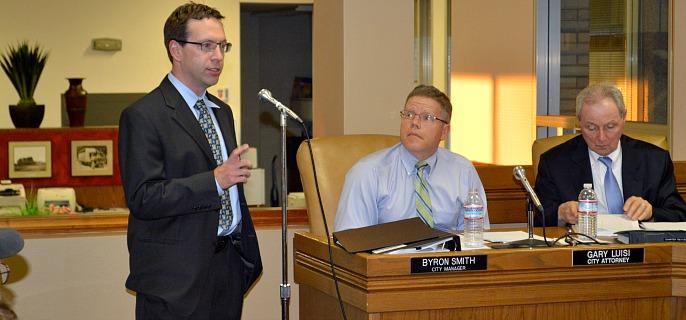 When the dust settles and the history books are written about Hermiston, it could be said that a mathematical error led to the creation of city-owned natural gas utility company.
The Hermiston City Council voted unanimously Monday night to begin the preliminary work to create its own gas utility company in order to increase the likelihood of industrial expansion within the city.
The impetus for Monday's vote came earlier this year when Dupont Pioneer Seed was told by Cascade Natural Gas that the cost to increase natural gas capacity to accommodate Dupont's expansion had gone from an earlier estimate of $450,000 to $2.3 million. The city and Dupont were told that the earlier estimate was the result of a mathematical error.
That, said Hermiston Assistant City Manager Mark Morgan, essentially put an end to any plans by Dupont to expand its operations at the Cook Industrial Site. And, said Morgan, if Dupont can't afford to spend $2.3 million to increase natural gas capacity, few – if any – other companies could afford to locate in Hermiston.
"So we began looking at alternatives to see if the city couldn't take on that responsibility of building our own line . . . and serving the southern industrial area with excess capacity so in the future other industrial companies that need natural gas will find Hermiston a positive site," said Morgan.
Before this can happen, however, the city has to determine if it has the authority to create its own gas utility company, much like it did when it formed its own electric utility company in the late 1990s. And, said Morgan, if it proceeds with the creation of a gas utility company, it would only be to serve industrial companies, not residential users.
Morgan told the council that there is no guarantee that Dupont will go ahead with expansion or that other companies will locate in Hermiston if the city creates a gas utility, but added it is a certainty that there will be no industrial expansion if the natural gas capacity at the Cook Industrial Site is not increased.
More Stories from Northeast Oregon Now
Umatilla Offers Free Meals to All Students
Desert Cobbler Stands Test of Time
State Approves Port of Morrow Funding