A Hermiston man was arrested Saturday on an attempted murder charge after firing a gun into a vehicle occupied by a family on Interstate 82.
According to the Oregon State Police, troopers responded around 5:57 p.m. to a report of a shooting on I-82.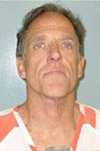 The OSP reported that Steven Dario Quiriconi, 62, of Hermiston, was driving a 2017 Land Rover when he pulled alongside a 2011 Ford F-150, occupied by two adults and two minor children, and fired a gun into the cabin of the truck.
No one in the truck was injured.
Law enforcement located the Land Rover traveling westbound on Interstate 84 and Quiriconi was taken into custody without incident. No indication was given as to why Quiriconi fired the weapon.
Quiriconi was lodged at the Umatilla County Justice Center on charges of attempted murder, felon in possession of a weapon, unlawful use of a weapon, pointing a firearm at another, recklessly endangering, unlawful possession of a firearm, menacing, reckless driving, DUII and possession of a controlled substance.
OSP was assisted by the Morrow County Sheriff's Office, Boardman Police Department and the Irrigon Ambulance.