A potential murder victim and Hermiston city employee helped police apprehend and arrest a Hermiston man on several charges including attempted murder.
Hermiston Police Chief Jason Edmiston said officers were called to the 250 block of E. Gladys Avenue around 9:40 a.m. on Wednesday after getting a report of a man in the location with a weapon.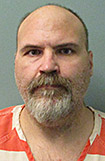 Officers arrived on the scene and immediately detained Howard Califf, 46, of Hermiston. Califf used to live at the residence but was restrained from going to the residence in December 2020 via a court order.
According to Edmiston, Califf is alleged to have arrived at the residence, discharging a firearm to gain entry into the residence, and firing several rounds while in the residence, including at a 47-year-old male relative who was inside doing repairs. A dog belonging to the victim was shot multiple times as the animal protected its owner, but only suffered superficial wounds and is expected to make a full recovery.
Califf was detained by officers transported to the Hermiston Police Department before being lodged at the Umatilla County Jail on numerous charges including attempted murder, animal abuse in the first degree, unlawful use of a weapon, first-degree burglary and more.
Edmiston said this is an active investigation and the Hermiston Police Department is in consultation with the Umatilla County District Attorney's Office.
Edmiston said it appears Califf had plans to shoot everyone in the house.
"It is our belief, based on statements and evidence collected, Mr. Califf was on a mission to cause incredible harm to all tenants of the house," he said. "Fortunately, the tenants were not home and the protective actions of the dog, coupled with quick decisions by the victim along with a city of Hermiston employee, who happened to be in the area at the time, thwarted the plan."