The Greater Hermiston Chamber of Commerce Board of Directors announced today that Hermiston native Kimberly Nevil has been selected as chief executive officer.
She will begin work April 22.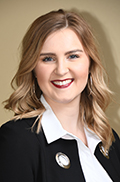 Nevil currently works as a business and employment specialist with the Oregon Employment Department in Hermiston. In that role, she assists job seekers in applying and preparing for work, and helps employers in hiring and other human resources activities.
As the chamber's chief executive officer, Nevil will lead a staff of three in interactions with the chamber's 428 members. She will coordinate the activities of the various chamber committees, and manage efforts to develop a new chamber office and workforce development center at South Highway 395 and East Evelyn Avenue.
"I'm excited for the opportunity to represent the Chamber," Nevil said. "Hermiston is in an era of growth, and I look forward to working with the Chamber's highly capable board and staff in helping businesses succeed."
Paul Keeler, chamber board chairman, said Nevil brings the high energy and strong skills needed to connect with Hermiston's growing and diverse community.
"She is the right person for the Chamber at the right time," Keeler said. "Kim is engaging, energetic and passionate about our community, and we're thrilled."
After graduation from Hermiston High School, Nevil received a bachelor's degree in business administration from Eastern Oregon University in La Grande.
Nevil was the university's representative to the National Millennial Community, which brings Fortune 500 companies together with the millennial generation to build relationships and challenge stereotypes created by the generation gap. Among her duties, that volunteer work took Nevil to Los Angeles and New York to lead roundtables with company executives.
In her spare time, Nevil is a member of the Hermiston chapter of PEO International, which helps provide educational opportunities for female students worldwide. She is active in sports and enjoys hiking and other outdoor activities. She is a resident of Irrigon and engaged to be married to Brian Rill of Heppner.
Nevil will succeed Debbie Pedro, who resigned for another job opportunity after 18 years with the chamber.  A committee of the chamber board of directors, along with former chamber board member and experienced chamber executive Brenda Turner, reviewed and interviewed the candidates.