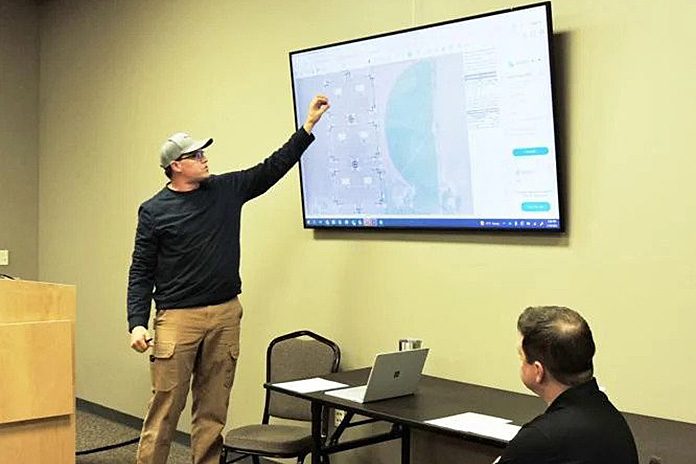 Editor's note: This story first appeared in the Hermiston Herald and is part of a content-sharing partnership between Northeast Oregon Now and the Hermiston Herald.
There are big plans for the ground in front of the Eastern Oregon Trade and Event Center, even though the property doesn't look like much at the moment. Now merely empty land with a smattering of dug dirt, it is the home of future sports fields. A $2.6 million project, the Hermiston Oregon Sportsplex will provide outdoor space for teams to play.
"It's great, actually," said Luke Swanson, EOTEC advisory committee member. "We're going to start moving dirt and breaking ground towards the end of the month."
According to Swanson, the HEROS groundbreaking last October was ceremonial, and it marked the start of workers placing irrigation lines. This month, then, marks more substantial steps toward the project's completion. For instance, ground will be made ready for light bases, which have been ordered and will be delivered soon. Light pole fixtures will sit on those bases.
"We should have a lot of movement on this throughout the month of February, weather permitted, of course," he said. "We'll be able to see a lot of improvement. I'm excited."
Swanson added more information about the project's timeline, saying the goal is to be planting grass the last two weeks of March. It will be seeded and irrigated.
"Depending on weather, and how the grass is to be established, we're hoping to possibly have a tournament the first part of the summer," he said.
He stressed the completion date for HEROS is uncertain; fields will not be open for use until the grass is grown, and no one can be sure of that. The inaugural competition, providing the grass is ready, is scheduled to be a local lacrosse tournament for Hermiston Youth Lacrosse.
According to its website, Hermiston Youth Lacrosse is in the Central Washington Lacrosse League with Walla Walla, Yakima and Tries-Cities teams. Practices start in March, games start during spring break and they continue through early June.
Players are students — kindergarten to eighth grade.
Swanson said the players practice at Sandstone Middle School in Hermiston. The ground is fine for practices, he said, but he said it is not appropriate for tournaments. Thirty to 40 teams compete in tournaments, and Sandstone doesn't have room to accommodate them, according to Swanson.
"That's why the HEROS project at EOTEC is so great," he said. "We're going to have six full-sized fields, and really bring a lot of individuals in town."
These fields will occupy 17 acres at EOTEC, taking the overflow parking area, the bare ground between the Hermiston Municipal Airport and EOTEC. This is where lacrosse, soccer, flag football and other sports will be played, if planners have their way, according to Swanson.
The sponsoring nonprofit behind the project is Made to Thrive, Swanson said.
Made to Thrive, according to its website madetothrive.org, is dedicated to "empowering children through outdoor activities, sports, arts and music. Based in Hermiston, it seeks to help young people who might otherwise feel "hopeless, forgotten and neglected."
According to Swanson, Made to Thrive has helped raise about $850,000 of the needed $2.6 million for the project.
Organizers are at work, calling people for sponsorships, applying for grants and meeting with company representatives for additional funds.
"It's just awesome," Swanson said. "When the community gets behind something, there is so much energy to get something done."
Mark Morgan, assistant city manager, said the city of Hermiston has contributed approximately $100,000 to HEROS, matching the amount Umatilla County gave. Also, the city offered a low-cost short-term lease for the development of the fields.
Swanson said money collected to date is enough for a start. In the event of fundraisers falling short of their $2.6 million goal, HEROS will not be delayed.
"We have everything ready and committed to get the grass established," Swanson said. "We're proceeding with the light bases, not the light poles, just the concrete basest poles will sit on, just so we don't have to go back in and tear up the fields when we want to put in the lighting if we raise the funding."
Lighting will be added, bit by bit, as money rolls into the project, Swanson said.
Hermiston lacrosse players travel throughout the northwest, including Seattle, Spokane, Coeur d'Alene, Yakima, the Tri-Cities, Bend, Sisters and Portland. Local seven-on-seven football players travel into California and Nevada for competitions. Soccer teams travel, too.
"Every weekend, you get into a car and go," Swanson said.
With the ability to host local competitions, teams will be able to stay close to home much of the time, Swanson stated.
Also, other teams will be coming here for a tournament or two every month from March to October. The presence of players and families will be a "huge economic boost" to the area, he said. Hermiston, he said, could soon experience the same sort of boon that occurs during basketball tournaments. When basketball comes to town, visitors fill restaurants and hotels. A similar boost because of the new fields could bring $1.2 million to Hermiston, he said.
If HEROS begins to host concerts, it could bring even more visitors and money to Hermiston, Swanson said.
"There's a lot of potential that comes with this," he said.
Josh Burns, a project volunteer, expressed enthusiasm about HEROS. As a father of children in sports, he notices the lack of space for tournaments, but also for regular games and practices. During warmer months, soccer, lacrosse and baseball are at war with one another, battling over real estate.
He said that HEROS would "definitely help with that issue."
Also, as a former member and president of the Hermiston Chamber of Commerce board, he agreed with what Swanson had to say about the sports complex; it will bring in money.
He said, with HEROS, EOTEC will do what it was built to accomplish — attract visitors to Hermiston.
"Unfortunately, a lot of the events that we get to have at EOTEC, even the county fair, most folks aren't necessarily getting a hotel room," Burns said. "They're traveling in from around the county, but they're going home at the end of the night."
In contrast, HEROS should attract people from long distances. These visitors will have to stay in the area for the night and spend money, because the HEROS events will end too late, and they live too far away, for them to drive home immediately after their events.
Burns said he has first-hand experience for how this works. He takes his family to other cities. After shelling out for a hotel and three or four meals, he has spent a great deal outside of his community.
"Instead of pumping money into those communities, I'd really love to see our Hermiston community benefit," he said.
He said he envisions a time when 6,000 or 7,000 people show up for a big tournament, with vendors setting up in the fair area.
"We've seen that in other areas, and we need to have it here," Burns said.
EOTEC general manager Al Davis had good things to say about HEROS, too.
"I think it's a great addition for us and a great addition for Hermiston," he said.
According to Davis, Hermiston is a great destination for people, given its proximity to bigger cities. Also, he said, he has seen the success of local lacrosse. Given Hermiston's population, it could become a center for activity. Davis said it's easy to believe that many lacrosse enthusiasts will want to come to town.