The man who allegedly dropped a gun that discharged when it hit the ground while fleeing on foot from police was apprehended and is now in jail.
Austin Lonnie Black, 25, who was wanted on a probation violation warrant and weapon offenses, took off running Tuesday when Hermiston police attempted to make contact with him.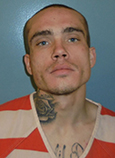 While fleeing from police, a gun he was allegedly carrying was dropped to the ground and discharged. Lt. Randy Studebaker of the Hermiston Police Department said no one was injured nor any property damaged when the gun inadvertently fired when it hit the ground.
"We believe that during the chase he either accidentally dropped or discarded a loaded firearm, which fired when it hit the ground," said Studebaker.
Black was located and taken into custody without incident around 10 p.m. on Tuesday and lodged in the Umatilla County Jail on the probation violation warrant, as well as new allegations of felon in possession of a firearm, and altering the identification number on a firearm.