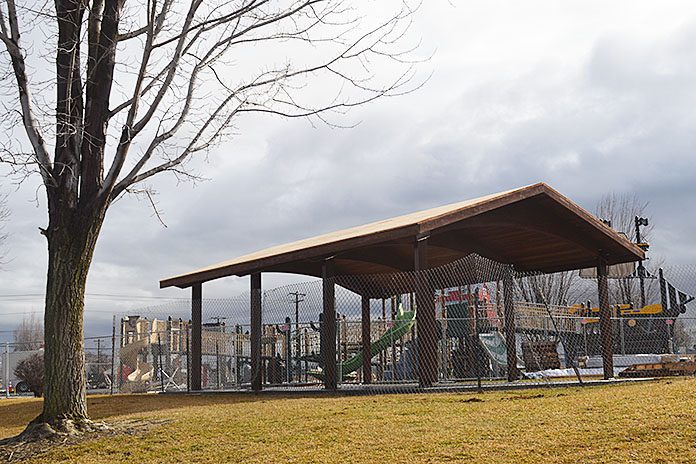 With the help of the Walmart Distribution Center, Hermiston Rotary Club members are contributing to the new Funland Playground by funding and constructing a new picnic shelter for the site.
The Rotary club was assisted with grants from the Walmart DC, Rotary International's District 5100, and contributions to the Hermiston Rotary Club Foundation funds. Club members have also donated time and labor to build a new 28-foot-by-24-foot covered picnic shelter located on the northwest corner of the playground.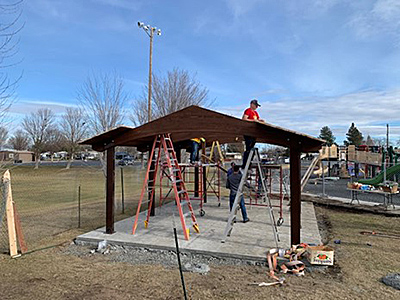 Rotary Club President Jeremy Larson said the club was grateful for the Walmart DC grants.
"The grants we received from the Walmart DC really kickstarted our efforts to make this project doable," said Larson during a recent work party with fellow Rotarians.  "The grants gave us the down payment on the kit we purchased from Natural Structures of Baker City, and with that strong start, several members in the club made significant cash contributions to help us reach our goal."
The Hermiston Rotary Club has collaborated with the Hermiston Parks and Recreation Department on the overall layout of the picnic shelter. Parks and Rec Director Larry Fetter said the playground has long needed more picnic space.
"Prior to the fire that destroyed Funland in 2018, the existing picnic shelter was always booked with families holding birthday parties and gatherings near the playground," said Fetter.  "We are excited to see the new Funland Park develop before our eyes and are thankful for the Hermiston Rotary Club's leadership in making this shelter as a wonderful addition to the playground."
The playground is expected to be dedicated on Memorial Day weekend.