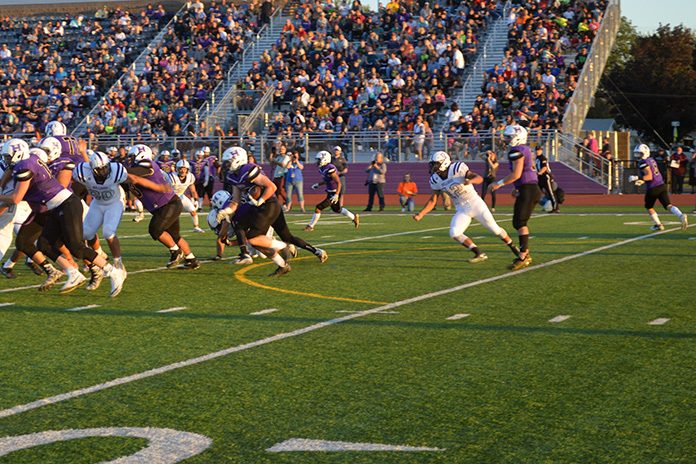 It was the Wyatt Noland show Friday night at Kennison Field as the Hermiston Bulldogs opened the 2018 season with a resounding 45-0 win over Pasco.
In their first game in Washington Interscholastic Activities Association's Mid-Columbia Conference, Hermiston scored in every quarter, thanks in large part to the work of Noland. The team's senior running back burst through the line midway through the first quarter and ran 80 yards for the game's first score.
Noland was just getting started, it turns out.
On their second possession of the game, the Bulldogs had little trouble moving the ball down field. Senior quarterback Andrew James scored near the end of the first quarter on a 1-yard keeper to give Hermiston a 14-0 lead.
Midway through the second quarter, Noland scored his second touchdown of the game on a 3-yard run to give Hermiston a 21-0 lead which they took into halftime.
Pasco managed just 4 first downs in the first half – two of those coming courtesy of Hermiston penalties.
After facing a fourth-and-long deep in their own territory, Hermiston flipped the field on a long punt that put Pasco at their own 22. Youbani Razon then picked off a pass, giving Hermiston the ball on Pasco's 26 yard line.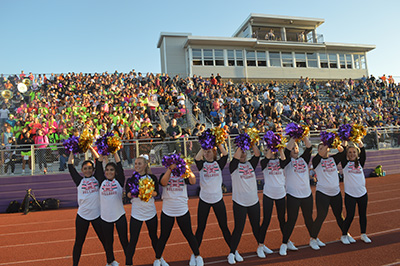 Three runs – two by Noland and one by James – set up a third-and-goal at the 1 before Noland crashed through for is third score of the night to put Hermiston up 28-0 with 7:28 left in the third.
Another turnover – this time a fumble by Pasco – gave Hermiston the ball back at the Pasco 20. Noland took a handoff and rumbled 15 yards to the 5, but Pasco's defense stiffened and Hermiston has to settle for a 22-yard field goal by Juan Carlos Navarrete with just under 5 minutes left in the third quarter.
A 24-yard touchdown run by – you guessed it – Noland gave Hermiston a 38-0 lead with 4:48 left in the game. Hermiston coach David Faaeteete began putting in some of his reserves including quarterback Sam Schwirse and the coach's younger brother, Daniel Faaeteete, who scored the final touchdown of the game on a 10-yard run with under a minute left in the contest.
Noland finished his monster game with 28 carries for 255 yards and 4 touchdowns. James ran 14 times for 91 yards and a score. James only threw the ball six times, completing three for 27 yards and one interception. Schwirse was 2-for-3 for 30 yards in the air. Faaeteete had 64 yards on 10 carries, and Cash Campbell had 3 sacks in the game.
Hermiston will face a big test next week when the team travels to Richland to take on the Bombers, Washington's defending 4A champs. The game is set for 7 p.m. at Fran Rish Stadium.