Donna Thomas, human resources manager for the Hermiston School District, was named Human Resources Specialist/Support Staff of the year for 2021 by the American Association of School Personnel Administrators.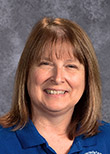 The recognition is awarded annually to an individual whose contributions have had significant impact on the efficiency of the human resources office and to the field of human resources; who has at the local, state/province, national, and/or international level distinguished him/herself through leadership service; and is a collaborative, contributing participant in personnel functions and/or programs, according to the AASPA award announcement.
"AASPA could not have selected a more worthy professional for this honor," said Superintendent of School Dr. Tricia Mooney. "Donna has worked in human resources for nearly 40 years. This experience and wealth of knowledge is a great benefit to HSD and our HR department."
Thomas will be recognized at the AASPA Conference in Washington, D.C., on Oct. 13.
Thomas began her professional career with the Coos Bay schools while in high school. Despite taking a break in service to be home with her young family, she had 29 years of experience when hired by HSD. Now in her 39th year in public education, Thomas officially retired with the Public Employee Retirement System in 2020, however, she was hired back by the district, on contract, in the same capacity.