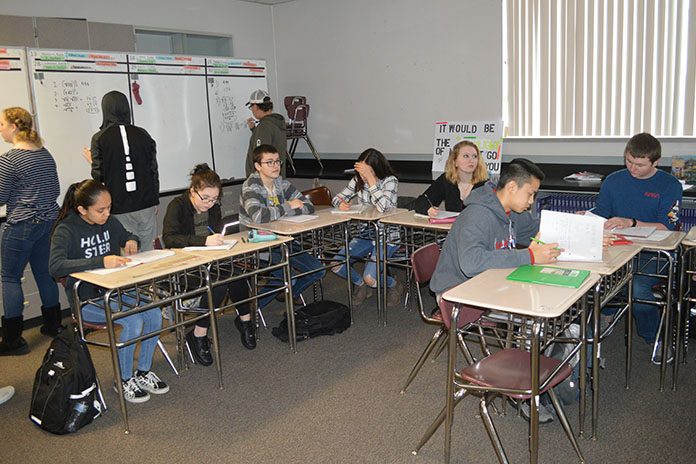 Anyone who hasn't been inside a high school in a generation or more might be in for a bit of culture shock when visiting today's classrooms.
Gone are the neat rows of desks that were so ubiquitous in decades past. Gone are the scenes where teachers stand at the front of the class and lecture endlessly to students who can't even bother to hide the blank looks on their faces. And it's now uncommon to find teachers who maintain a quiet, orderly classroom.
These days it's more like controlled chaos where everyone is not only encouraged, but expected to be part of the conversation. Desks are no longer arranged in straight rows, but in a more feng shui manner designed get the energy flowing toward actively learning.
The Hermiston School District has implemented a program called VIP Days in which members of the public are invited to spend a morning at a Hermiston public school and watch how teachers teach and how students learn.
Hermiston High School Principal Tom Spoo picked up on the idea from the Pasco School District and introduced it to Hermiston schools this year. Several Hermiston schools are taking part. There have been three at the high school with a fourth coming in the spring. Prior VIP Days have been attended by service club members, parents of freshmen students and other groups. Friday was attended by members of the local media.
"We want to get the public to see kids learning in action," said Spoo. "We want transparency and to build trust within the community."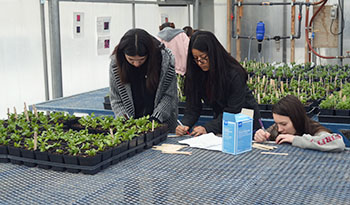 On Friday, VIP attendees were able to quietly slip into classrooms to watch what goes on. The first class was math in which the students broke into small groups in front of their own white boards to work out problems. Teacher Andy Hall stood in the middle of the class with an iPad and projected his instructions onto the wall.
In James Doyle's language arts class, students were peppered with grammar – yes, grammar – questions. No one was safe from Doyle's eyes, questions or his sense of humor.
Over at the greenhouse, students were studying plant science with hands-on lessons. In Nathaniel Scott's digital arts class, students had their own computers to work on posters and other graphic arts projects.
In each class, the most notable thing was the degree of interactive learning that takes place. In the past, a shy or struggling student could get away with quietly sitting in the back of the class and never raising his or her hand. Today, such a student would stick out like a sore thumb.
In the Counseling and Career Center, students are given every opportunity to get help with academics, scholarship information and college applications. A homework club exists to provide extra assistance for students who need it. Two Saturdays a month, teachers are on hand to work with kids on their classroom assignments, scholarship applications or college applications. There are graduation coaches whose focus is to identify students who are not on track to graduate and work with them to get them back on track.
Vocational programs such as the Columbia Basin Student Homebuilders Program teach students skills necessary to land good-paying jobs after high school.
Spoo hopes the VIP Days open the eyes of the general public so they can see the positive work going on inside the Hermiston schools.
"They don't really realize what goes on in today's schools," he said. "This gives them a pretty good idea."