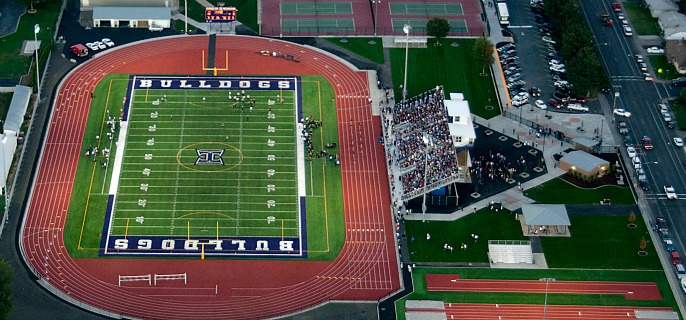 Hermiston School District is exploring the possibility of heading across the Columbia River and joining Washington Interscholastic Activities Association (WIAA), by the fall of 2018.
If approved, it would mean Hermiston High School teams would compete in the Mid-Columbia Conference which is comprised of teams from throughout the Tri-Cities as well as Walla Walla.
Hermiston School District official say the district is facing a challenge as Hermiston High School's enrollment continues to increase. The growth will move HHS to the state's highest classification in the Oregon School Activities Association (OSAA). This brings up the issue that there are no similarly sized high schools within 175 miles of Hermiston for competition.
The high school currently has 1,560 students, and it is expected to grow to over 1,600 by the fall of 2018. Moving up a classification means HHS would join a conference of eight to 10 teams, each outside of a reasonable commuting distance, meaning up to nine trips to the Portland area, with over 175 travel miles each way in one season.
Oregon uses a Rated Percentage Index (RPI) system, which forces the high school to schedule non-conference games within state or same classification opponents.
"This could increase the school's travel costs by up to 60 percent, and students could miss up to 30 percent of their classes in a given month for their athletic events, which is unacceptable," said Director of Athletics and Activities Larry Usher.
The district says there are several advantages arise if the Hermiston School District is permitted to join the Mid-Columbia League.
Reduced time away from instruction for the student athletes;
Games would be against schools within close geographic proximity, resulting in savings to travel budgets;
An increase to playoff allocations for the league if HHS is added;
HHS would offer the WIAA outstanding facilities, especially in track and field, soccer, and football as Kennison Field is a NCAA conforming stadium.
"I believe we are still facing an uphill battle with the WIAA, and we completely understand if they are hesitant," said Usher. "Something new is not always easy for any group, but this is about our kids in Hermiston and this uphill battle is certainly worth it. We have the full support of every school across the river in the Mid-Columbia Conference and certainly hope that pulls some weight with their association."