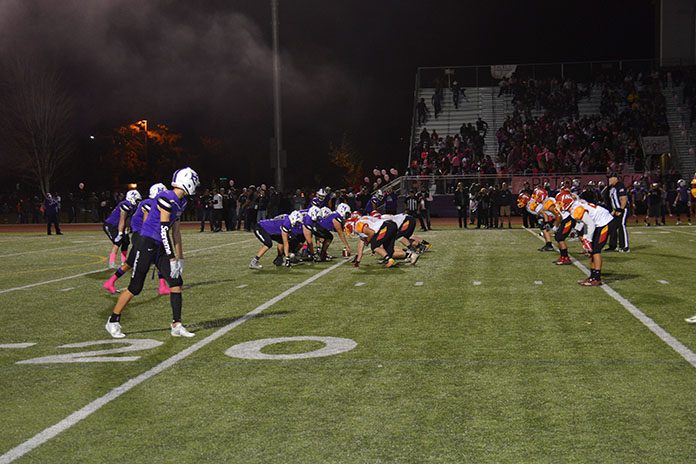 With playoff hopes on the line for both teams, the Kamiakin Braves came to Hermiston Friday night and scored a come-from-behind victory to essentially knock the Bulldogs out of the playoff contention.
Trailing 10-0 early in the second quarter, Kamiakin went on to score 20 points and shut down Hermiston's offense the rest of the half to take a 20-12 lead into the break.
Hermiston's offense got on track late in the third quarter and were helped by good field position at their own 45 when quarterback Andrew James hit Youbani Razon on a 50 yard pass to the Braves' 5 yard line. With a lead block by Wyatt Noland, James ran the ball in from the 5 and added a 2-point conversion to tie the game at 20 with 4:53 left in the third quarter.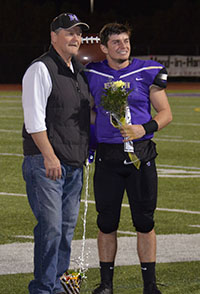 Both defenses stepped up and forced punts or turnovers on downs for a long stretch before Kamiakin running back Tuna Altahir broke away on a 63 yard run to give the Braves a 27-20 lead early in the fourth quarter.
Kamiakin went up by 14 after a Hermiston player touched a Kamiakin punt and the ball was recovered by the Braves near midfield. Kamiakin began milking the clock and finally scored on an 11-yard run by Altahir with 2:47 left in the game.
Hermiston, however, wasn't quitting and wasted little time in driving down field and scoring on an 18-yard touchdown run by Noland to cut Kamiakin's lead to 34-27.
Hermiston had one more chance to tie the game but turned the ball over on downs to end the game.
James struggled passing for much of night, finishing 14-for-35 for 178 yards and 2 touchdowns and 1 interception. He ran for another 90 yards while Noland tacked on 107 yards on the night.
Hermiston also had a field goal by Juan Carlos Navarette and a safety when Cody Wisner tackled Kamiakin quarterback Lukas Castilleja in the end zone in the first quarter that put Hermiston up 12-6.
Hermiston had trouble all night stopping Altahir, who finished with 270 yards on the ground and 4 scores.
While Hermiston is out of the run for another state title, they will play a final home game next week to wrap up their season. Friday's loss drops the Bulldogs to 5-3 in conference play and 6-3 overall.