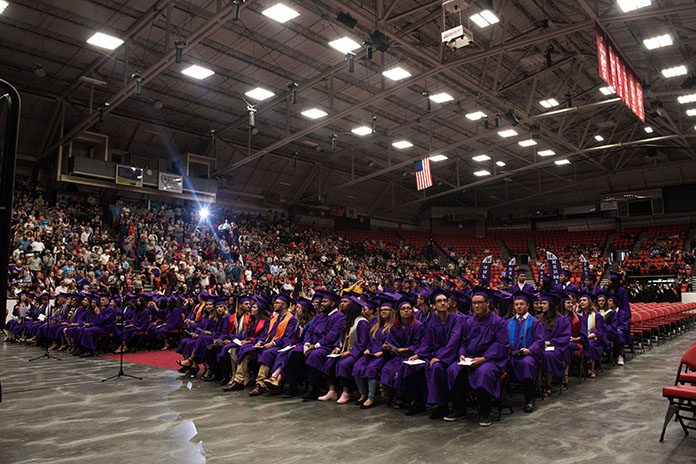 A huge crowd watched as the largest graduating class in the history of Hermiston High School walked across the stage at the Toyota Center in Kennewick Thursday night to receive their diplomas.
The event was held at the Toyota Center to accommodate more people, and according to the Hermiston School District, approximately 4,400 people showed up to watch the 342 students graduate. District officials said that was twice as many as the school's gym could hold.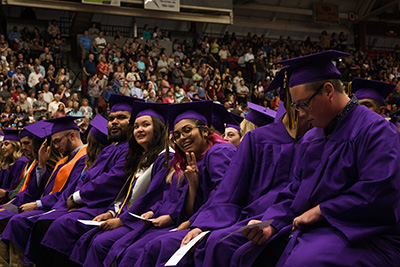 HHS Principal Tom Spoo read off the many accomplishments of the graduating class, including in the classroom and the athletic fields. A total of 32 seniors earned their Honors diplomas, 136 completed a program of study, more than $5 million in scholarships were earned, the choir won first place in the District 6 Choir Festival, the band sent a dozen students to the state solo competition, the school's ASB members put in more than 1,000 hours of community service, four conference and district championships were won on the field and the football team won the 5A state title.
"Collectively, this is one of the finest classes in the history of Hermiston High," he said.
Class President Dante Rome gave the welcome and thanked parents, teachers and the friends he and his fellow graduates will keep for life.
"Once a Bulldog, always a Bulldog," Rome said.
The class history was given by Dylan Westfall who recalled the highs of winning championships to the lows of losing a classmate. He called his classmates unforgettable and said the history is in the past, so it's time to focus on the future.
"Our history may be set in stone, but our future is big and bright so let's go see what's out there," he said.
Salma Anguiano gave the class prophecy and encouraged her fellow graduates to find their passion in life.
"Our passions may seem impossible, but it's important to chase them," she said. "Take risks – even if it scares you. You will either succeed or you will learn an important lesson."
This year's Distinguished Alumnus and guest speaker was 1979 grad Dan Hill, who is the circuit court judge for the 6th Judicial District covering Umatilla and Morrow counties.
Hill said high school is not the end of anything, but just the beginning of their life. He encouraged them to develop a lifelong habit of learning and to engage in society – not just be spectator.
"Look beyond yourself and commit to public service," he said. "We are passing the baton onto you and we hope we've prepared you for the future."